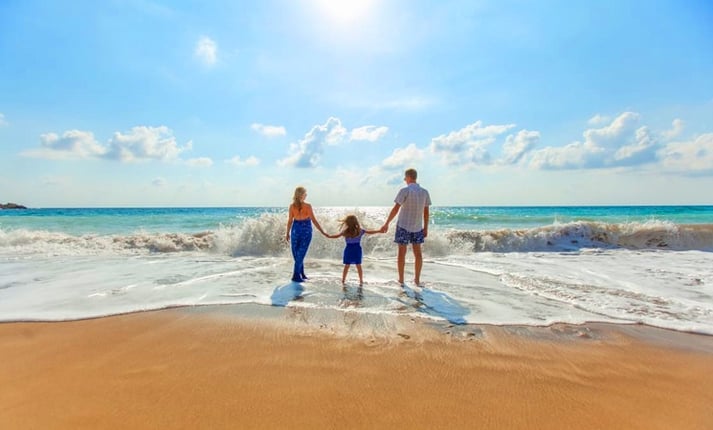 Listen, Americans do a ton of things right. We know how to make some killer pizza, we have some award-winning coffee skills, and we even have some of the most breathtaking skylines in the world.
Something we don't do right? Vacations.
It's the truth. Our culture is becoming increasingly more obsessed with work and technology. Workers are jam-packed with schedules, smartphones and tablets practically attached to their bodies even while they're asleep and this weird, morphed sense of the workplace that the most over-worked employee on the brink of a meltdown is somehow the best one.
Wrong. Wrong. WRONG.
Study after study has proven that downtime has real benefits. Employees who return to work refreshed from a vacation bring sparkly new outlooks and a burst of creative ideas. They have a renewed drive to dive in and get things done. Taking time off actually improves their productivity.
While the majority of Americans believe strongly in the value of time off, for some reason we continue to function under this silent assumption that endless face time serves us better than taking the occasional break to fill up the gas tank.
More than half of us (55 percent) aren't using our well-deserved vacation time, resulting in a whopping 658 million unused vacation days and a zombie-like workforce always on the brink of burnout. To make matters worse, we're doing nothing to change our work-a-holic mentality—if anything, we're making it worse. In fact, Americans take far less time off than people in other countries do. According to research, on average we let a week go unused.
According to research from Project: Time Off, employees' top reasons for skipping vacations include:
Concern over returning to a mountain of work, 37%
Feeling that no one else can do the job, 30%
Impression that taking time off is harder as you rise up in the company, 28%
Wanting to show complete dedication to the job, 22%

There is a secret to overcoming all those reasons for not taking vacation: planning.
Planning is a crucial step in making a vacation possible. According to Project: Time Off, planners are more likely to use all their earned time off and take longer breaks at once. They're also happier with their personal and professional lives.
As travel agents, we can help take back "America's Lost Week." We can combat job stress and burnout, reduce employers' liabilities, and improve employees' concentration, creativity and general wellness by showing people how to renew and re-energize themselves.
Join us in disrupting the stigma about going on vacation. Learn about why vacation time is so important, communicate about it with coworkers and company management, and lead by example: take advantage of your vacation time.
Read more about the importance of planning at www.ProjectTimeOff.com/PlanForVacation
#PlanForVacation