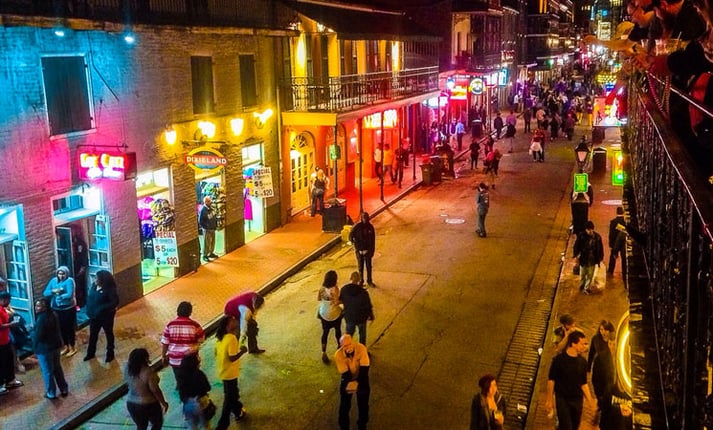 If you love seafood, ghost stories, jazz, and a city that's so full of rich culture and history that each cobblestone street seems to have its own story to tell, then NOLA might just be your dream destination.
Known for its famed Bourbon Street, its wild Mardi Gras celebrations and those bright green Hand Grenades, you might think that that's all New Orleans is about – but you'd be wrong. This colorful city is humming with music and brimming with spicy cuisine. It's a city emblazoned with lively street art and shivering with ghost stories. It's a city where you will meet people from all walks of life, where you can eat alligator meat, and where you can visit a dimly lit voodoo shop.
There's so much more to New Orleans than Bourbon Street. Here are 5 other things you can do:
Visit the French Market District
Photo Credit: Flickr
Explore six blocks of open air shopping, history and local eats at the French Market District. Here you can browse at the Flea Market or get some grub at the Farmers Market. Enjoy the sweet sounds of local musicians, try out some frog legs or buy yourself some locally crafted jewelry.
Have some rabbit jambalaya at Coop's Place
Photo Credit: Yelp
The spot where locals go to eat, Coop's Place serves up Cajun-style cooking in this beloved dive bar. This is no five-star experience. Leave the fancy dishes and pretentious wait-staff for another time. At Coop's Place, you'll get cold beer, a fun atmosphere and some of the best food in the South. Rabbit and Sausage Jambalaya, anyone?
Ride a steamboat along the Mississippi River

Take in the sights from the Steamboat Natchez, NOLA's last authentic steamboat. Buffet lunch cruise? Dinner cruise? Brunch cruise? The Steamboat Natchez has you covered. Explore the French Quarter and see the New Orleans skyline the way it's meant to be seen: from the river.
Eat some bugs at the largest bug museum in the country

The Audubon Butterfly Garden and Insectarium is the largest bug museum in the U.S. Here you can walk through a beautiful butterfly garden while hundreds of colorful butterflies float around you. You can watch an interactive bug movie, explore the Louisiana Swamp, shrink to the size of a bug or even gobble a few!
Go on a ghost tour

There's not much more thrilling than going on a walking ghost tour through one of the most haunted cities in America. New Orleans has a rich history of gruesome and ghastly tales, and hearing the stories retold where these particular macabre events actually occurred is core-shakingly enticing. But ghosts aren't all these tours are about. If vampires or voodoo history is more up your dark alley, you can enjoy them also.
Where would you like to travel?
Select your destination, and we'll pair you with an InteleTravel Advisor based on your travel needs.