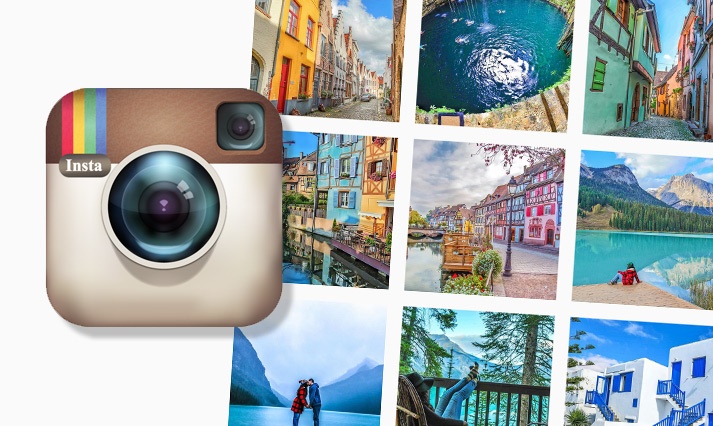 Let's be honest. Everybody loves a good travel picture.
There's just something about them that makes us feel all whimsical inside.
Whether a photo transports us to the enticing waters of Bora Bora or the impressive peaks of Mount Everest, a really good travel picture can truly take us on a thousand adventures in our mind, inviting us to want to spend even more time planning our next vacation to see these places for ourselves.
In this day and age, everything can be accessed from the palm of our hands, and that includes an endless array of faraway places that speak to our souls.
Our favorite way to scroll through captivating pictures of dream destinations? Instagram.
Instagram is the first social network of its kind, and it has been doing wonders for travel lovers like us all across the globe. Not only are you able to spend hours drooling over your fantasy resort through the growing interactive digital community, but Instagram has also opened the doors for countless travel photographers to capture images of dream locations in some of the most enticing ways possible.
Because of the beauty and global reach of Instagram, travel photographers are able to reach us in ways that they never could before, and we are able to see the world and our potential vacation destinations in such an authentic and creative light through their lenses.
Seriously, we love Instagram. (In fact, we think you should go and follow our up and coming account over at @inteletravel.)
It allows us to see the world in a refreshing light.
It allows us to find new hotels and cities we may not have thought of before.
It allows us to dream.
Here are 7 of our favorite Instagram travel accounts that we think, actually, we know, you need to follow right now.

One of the most famous adventure travel photographers on social media, Chris Burkard's Instagram account boasts an amazing 1.5 million followers. Dedicated to clean photography and extraordinary landscapes, this account will leave you breathless.

We love Senna's account. As an intrepid explorer of the world, he's seen sights that we could never imagine existed and brought them to life. Senna's photos have an air of whimsical wanderlust to them. His dreamy photos capture a very pure and authentic side to the places he visits, and we love witnessing his journey.

Dan James's page is one that captures a very real and raw view of the places he visits. We love how he incorporates local animals and people native to the countries he journeys to. Bringing those lively elements into his photos makes them resonate with us in a profoundly touching way.

Run by Brooke Saward (we also love her blog), this account depicts the everyday adventures of a true wanderer with a great eye. We love following Brooke on her journeys, and reading her amazing stories on her website.

A New Yorker from Queens, Joe Connor captures the cool beauty and grittiness that is New York City. His page captures amazing images. Even when he travels to other destinations, he still brings a raw element to his photos that is quintessential New York.

Having stepped in 40 countries, MissJetSetter is an account that expresses the true beauty of the cities and towns she journeys to. We love her color scheme, which varies greatly from other travel photographers, as she tends to favor bright colors—and a lot of them!
Follow MissJetSetter on Instagram

Dedicated to exploring destinations off the beaten path, Kristin Addis has a knack for capturing very magical moments and letting us look at things we've never seen before.
There were so, so many more travel accounts that we wanted to include, but we didn't want to overwhelm you all – we know a solid 7 new travel accounts will give you hours upon hours of fun, exploration... and vacation planning!
Do you have any suggestions of accounts that should make our next list?