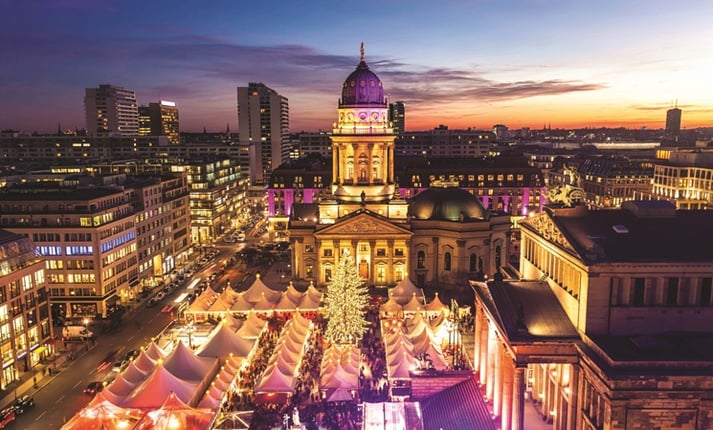 There's nothing quite like small town USA for the holidays. Those quaint villages, snow-topped lamp posts and friendly locals have the power to bring the warmth of the season to everybody who visits.
If you're a Christmas lover yourself, make sure you add these towns to your holiday travel bucket list!
LEAVENWORTH, WASHINGTON

Photo Credit: EZZUO
This Bavarian-style village comes alive during the holiday season. With over 21 miles of peaked rooftops, millions of twinkling lights dot this enchanted mountain town. The sounds of hand bells clinging and carolers singing can be heard for the first three weekends of the month as Christmas lighting ceremonies illuminate the winding streets. Enjoy a horse-drawn carriage ride, roast chestnuts over an open fire, shop in the village center or enjoy a Sunday cookie crawl through town where the little ones can snack on free cookies.
JACKSON, WYOMING

Always topping the lists of winter getaways, Jackson is full of seasonal sports and snowy adventure for families and outdoor lovers alike. Go skiing, snowmobiling, snowboarding or even dog sledding in this mountainside town. While always breathtaking, Jackson decks itself out for the holidays in festive Christmas lights.
HELEN, GEORGIA

This Bavarian-style town at the foot of the Blue Ridge Mountains is adorned with Christmas cheer. Come oogle at the beautifully decorated trees and wreaths at the Festival of Trees or participate in the Kinderfest, tree lighting or Christkindlmarkt street fair.
BETHLEHEM, PENNSYLVANIA

Nationally recognized as "Christmas City" since 1937 when this town in eastern Pennsylvania campaigned to become the place where Christmas cards are sent, Bethlehem sure lives up to its nickname. This city springs to life in December, when more than 800 trees are lit with sparkling white lights, and every store front is elaborately decorated to make the entire city seem festive and inviting for visitors. City walking tours retell the history of Christmas in Bethlehem along with a living Advent calendar. Don't forget Santa! There's something for kids of all ages in "Christmas City."
MCADENVILLE, NORTH CAROLINA

Just a few miles west of the big city of Charlotte, this small North Carolina village changes its name to "Christmas Town USA" come December. Nearly every home is decked out in lights along its 1.3-mile route, drawing visitors from all over the place to get a glimpse of the magic. With an annual Christmas Town Festival, a Yule Log Parade, a 5k race and more – Christmas spirit is alive and well in McAdenvill this time of year.
WOODSTOCK, VERMONT

If the perfect winter landscape of fallen snow and the brisk scent of fresh pine doesn't get you in the Christmas spirit, surely the horse-drawn wagon and the sleigh rides will. The old homes are dressed up for the holiday season in lush wreaths and garlands, with strings of lights illuminating this charming town. Most notably known for the Wassail Weekend, a pre-Christmas 19th century-themed festival, dozens and dozens of spirited horses and riders wearing holiday costumes ride through town. Take them in stride or make a detour into one of the many shops adorned in festive décor.
NORTH POLE, ALASKA

The spirit of Christmas never wanes in North Pole, Alaska. It's filled with holiday cheer 365-days a year, thanks to candy-cane colored street poles lining Santa Claus Lane, Snowman Lane, Kris Kringle, Mistletoe, Holiday Road, Saint Nicholas Drive, and North Star Drive, to name a few unique avenues that put this place on the map. Visit the 9,000-square foot Santa Claus House, filled with toys and Christmas merchandise, along with Santa himself (of course!), plus real reindeer and a life-sized nativity scene! The town's "Christmas in Ice" is a theme park with slides made from ice, giant ice sculpture competitions, ice mazes and more!
BRECKENRIDGE, COLORADO

This snowcapped ski town at the foot of the Rockies transforms itself into a beautiful Victorian-style Christmas town that looks like it was plucked right out of a snow globe. The season begins the first week of December with the Lighting of Breckenridge, and the remainder of the month is filled with horse-drawn carriage rides and shopping galore. You'll feel as if you've been transported back to a whimsical time of heart-warming Christmas traditions.
DURANGO, COLORADO

Photo Credit: Google
It's no surprise that a second Colorado town shows up on this holiday list. There is something about this state that makes you feel like you've just stepped inside a wintery postcard. And Durango is no different. Each December night, pajama-clad children hop aboard a real-life Polar Express, enjoying a journey to the North Pole to pick up Santa Claus. There are plenty of other Christmasy events around town, including Singing with Santa, Noel Night and the Holiday Arts & Crafts Festival!