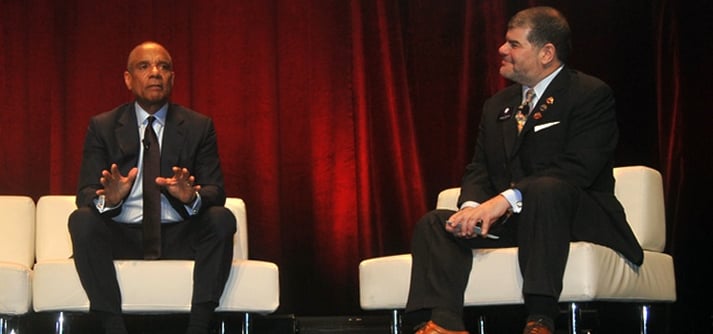 Former American Express CEO and Chairman Ken Chenault had some wise words of advice for travel agents attending InteleTravel Quest 2018, InteleTravel's annual conference and trade show, held last month in sunny Orlando, Fla.
The prominent business executive—who spent 37 years at the credit card company; 17 of those as its chief—delivered an inspiring keynote alongside InteleTravel President James Ferrara, who joined Chenault onstage for a fireside chat-style address.
A recent article in trade publication Travel Weekly titled "CEO's advice for succeeding in business" captures some of the retired AmEx chairman's key insights from InteleTravel Quest 2018, which focused around three core values:
"Integrity. Courage. Caring."
"What is critical in any business, in any organization, you have to have a foundation of trust," Chenault told the home-based travel agents, according to the newspaper.
"So for me, what is most important is integrity ... Because the greatest asset that you have in business is trust and your reputation. Trust with the people who work with you, trust with your partners, trust with your customers. So that is core."
Chenault explained it was imperative for employees to be courageous to weather the inevitable moments of doubt inherent within every profession. He stressed the importance of devising accurate strategies that identify priorities, and emphasized authenticity when forging relationships within the industry—genuinely caring about fellow employees and clients.
"Authentic leaders care about people," he's quoted as saying. "Authentic leaders want to drive results and outcomes because they want to make people's lives better.
Chenault, according to the piece, also underscored the need for agents to adapt to the ever-evolving digital landscape, such as consumers' ongoing utilization of mobile technologies:
"Innovate or die. There's no middle ground. What you've got to focus on, you've got to be on the front lines. You've got to innovate."
Photo: Former American Express CEO and Chairman Ken Chenault (L) delivers an inspiring keynote address alongside InteleTravel President James Ferrara at InteleTravel Quest 2018 in Orlando. Fla.
Read the full article for more words of wisdom from Chenault at InteleTravel Quest 2018.