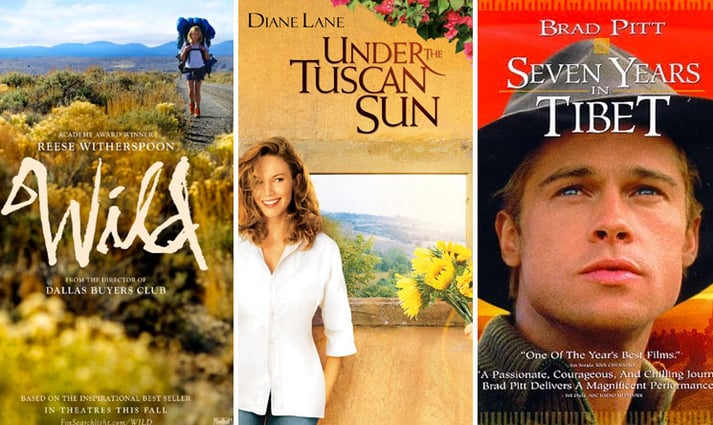 Movies inspire us in all aspects of life, including filling us with the urge to travel.
Haven't you ever come out of a movie overwhelmed with the feeling to explore the world, go to a new place and experience new surroundings?
We've compiled a list of 15 movies that inspire us to get out of our comfort zones, pack up our bags and seek adventure.
---
INTO THE WILD (2007)
Christopher McCandless graduated as a top student and athlete from Emory University—but something was missing in his life. So, he donates his savings to charity and hitchhikes to Alaska in search of wildness and adventure. During his journey, he encounters a series of interesting characters who try to help him find himself.
Memorable Quote: "You're just living, man. You're just there, in that moment, in that special place and time. Maybe when I get back, I can write a book about my travels."
Watch the Trailer | Buy the Film
---
UNDER THE TUSCAN SUN (2003)
Frances Mayes' life spirals out of control when she learns that her husband has been cheating on her. After a painful divorce, she travels to Europe and takes a tour of Italy, where she impulsively purchases a Tuscan villa.
Memorable Quote: "I had the urge to examine my life in another culture and move beyond what I knew."
Watch the Trailer | Buy the Film
---
THE MOTORCYCLE DIARIES (2004)
Che Guevara is one semester away from graduation, but decides to embark on a four-month long motorcycle road trip with one of his friends, exploring the mysteries of South America. On a quest to see places and people they've only read about in books, this enlightening trip shows Che his life's calling.
Memorable Quote: "Wandering around our America has changed me more than I thought. I am not me anymore. At least I'm not the same me I was."
Watch the Trailer | Buy the Film
---
TRACKS (2013)
With an intense urge for solo travel, a woman embarks on a 1700-mile journey across West Australia accompanied by her faithful dog and four camels.
Memorable Quote: "Like any journey, it's not what you carry – but what you leave behind."
Watch the Trailer | Buy the Film
---
SEVEN YEARS IN TIBET (1997)
This film is based on the true story of Heinrich Harrer, an egocentric Austrian mountaineer, who learns how to master selflessness from his encounter with a young Dalai Lama.
Memorable Quote: "The absolute simplicity. That's what I love. When you're climbing, your mind is clear and free from all confusions. You have focus. And suddenly the light becomes sharper, the sounds are richer and you're filled with the deep, powerful presence of life."
Watch the Trailer | Buy the Film
---
WILD (2014)
After suffering from a deep personal tragedy, Cheryl Strayed embarks on a 1,100-mile-long solo hike along the Pacific Crest Trail, one of the longest and toughest trails in America.
Memorable Quote: "I'm a free spirit who never had the balls to be free."
Watch the Trailer | Buy the Film
---
THE SECRET LIFE OF WALTER MITTY (2013)
In order to survive the daily, monotonous life he leads, Walter Mitty has spectacular daydreams filled with romance, heroism and adventure. When his job is threatened, he embarks on a real-life global journey that turns out to be more extraordinary than anything he could have imagined.
Memorable Quote: "To see the world, things dangerous to come to, to see behind walls, draw closer, to find each other, and to feel. That is the purpose of life."
Watch the Trailer | Buy the Film
---
EAT PRAY LOVE (2010)
After a woman gets a divorce after realizing how truly unhappy she is in her marriage, she decides to embark on a round-the-world journey to find herself.
Memorable Quote: "Do not look at the world through your head; look at it through your heart."
Watch the Trailer | Buy the Film
---
THE ART OF TRAVEL (2008)
When wedding plans fall through for a recent high school graduate, he decides to go on his honeymoon alone. On an adventure through Central America, he joins a group of foreigners looking to cross Panama's dangerous Darien Gap in record time.
Memorable Quote: "I can almost promise that there will be a day in your life that will blow you away."
Watch the Trailer | Buy the Film
---
180° SOUTH (2010)
An adventurer embarks on a journey mirroring the 1968 trip to Patagonia of his two heroes, Yvon Chouinard and Doug Tompkins.
Memorable Quote: "The best journeys answer questions that in the beginning you didn't even think to ask."
Watch the Trailer | Buy the Film
---
THE WAY (2010)
When his son dies while traveling the "El camino de Santiago," a father heads overseas to retrieve his body.
Memorable Quote: "You don't choose a life, dad, you live one."
Watch the Trailer | Buy the Film
---
THE BUCKET LIST (2007)
Two terminally ill cancer patients escape from their medical facility and go on a journey to check off their wish list of to-dos before they die.
Memorable Quote: "Carter and I saw the world together. Which is amazing… when you think that only three months ago we were complete strangers. I hope that it doesn't sound selfish of me, but the last months of his life were the best months of mine."
Watch the Trailer | Buy the Film
---
THE BEACH (2000)
When Richard travels to Thailand, he finds a mysterious map that's said to lead to a solidary beach paradise. Excited for adventure, he sets out to find it.
Memorable Quote: "And me, I still believe in paradise. But now at least I know it's not some place you can look for, because it's not where you go, it's how you feel for a moment in your life when you're a part of something."
Watch the Trailer | Buy the Film
---
EUROTRIP (2004)
After being dumped by his girlfriend, a high school grad decides to take a European journey with his friends.
Memorable Quote: "Alright, look, we can't all just lie around all day, we've got to get out there and experience the culture firsthand!"
Watch the Trailer | Buy the Film
---
HECTOR AND THE SEARCH FOR HAPPINESS (2014)
When a psychiatrist grows bored with the routine and direction that his life has taken him, he decides to undertake a global journey to find true happiness.
Memorable Quote: "We should concern ourselves not so much with the pursuit of happiness, but with the happiness of pursuit."
Watch the Trailer | Buy the Film