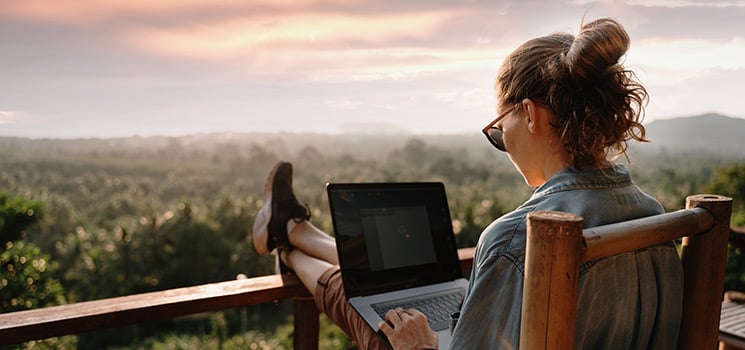 It hasn't been easy for travelers in 2020. Most of us have been confined to our homes due to the novel coronavirus (COVID-19) pandemic. You may have gotten by with day trips here or there, socially distant excursions with safety top of mind. You've lived vicariously through travelers in documentaries and TV shows. You've read books that convey what it means to travel the world. You have even honed your photography skills so your shots turn out just right.
There's nothing like the real thing, however. You want to get out and travel again. Should you, anytime soon?
There's no simple answer to that question. Everyone's needs and risk levels are different, and there's a non-zero chance of either contracting or spreading the virus when you leave your community. The best you can do is dedicate serious thought and research to determining not only when you can travel again, but also how to travel safely.
1. Understand the safety measures in place.
Avid travelers know that travel will never be 100-percent safe. In terms of health, road warriors know the tricks to fighting off germs: Pack disinfectant wipes for the plane, travel-sized hand sanitizer, and an array of remedies to fight off nausea, indigestion, or other ailments.
Those are all still good habits to practice as you hit the road, but you now need to combine them with behavioral practices such as wearing a mask and practicing social distancing.
So before you travel, whether you're road-tripping or flying, camping out in a state park or staying at a hotel, you need to make sure you know how to minimize the risk of transmission, including increasing disinfecting measures, wearing masks, and picking up food from drive-throughs or quick-service spots rather than eating at restaurants. The Centers for Disease Control and Prevention (CDC) has published guidelines on how to travel (relatively) safely via road, train, and plane.
If you're still not comfortable, it might be best to delay your departure.
2. Ask the following questions: Where would you like to go, and what would you like to do?
Prior to COVID-19, you might have known exactly where you wanted to go, how you'd get there, and where you'd stay before you even booked. That's no longer the reality. Finding out what locations are open to tourists is now a key part of your travel research.
Understand that different regions are in different stages of lockdown and subsequent reopening. For example, Europe is currently only allowing intra-E.U. travel for E.U. citizens.
Some countries, such as Iceland and New Zealand, took extremely aggressive measures and now have no active cases. Iceland is currently accepting tourists who either take a COVID-19 test or quarantine for two weeks. New Zealand, on the other hand, is still closed to non-citizens.
Just because countries are allowing tourists doesn't mean you should necessarily book a ticket. In fact, the State Department advises all U.S. citizens to avoid international travel during the pandemic.
For a better idea of what is open, broken down by categories including air travel, cruise lines, hotels, restaurants, and more, use a resource like Skift's "Reopening Travel" global timeline, which is updated daily.
As for domestic travel, states are reopening nonessential businesses on their own timelines. Las Vegas, for example, just reopened casinos. New York City, on the other hand, is still largely shut down; while non-essential businesses are allowed to do curbside pick-ups, many restaurants and bars remain closed.
The other factor of determining when (and if) you should travel is the activities you'd like to do. If you love exploring a country's urban life and sampling its cuisine, that's probably not a possibility in the short term. Even if it were, the experience wouldn't be the same without the bustling streets.
But if you're interested in outdoor activities like hiking or relaxing on the beach, you can enjoy them safely while adhering to social distancing guidelines.
3. Determine a travel timeline.
This used to be the norm: You had a departure date and a return date; you put in for PTO—pretty simple. Currently, it's a much more complicated process.
The first variable is your target travel date.
Let's say you want to travel this summer, and you don't have a lot of flexibility. Well, your options may be limited, but it's best to focus on a window toward the end of August and into September. If it looks like you can't get the vacation you want in that time frame, you may have to strongly consider rescheduling for 2021.
Or consider a late-in-the-year vacation. If you just want to get something on the books, you may feel more comfortable booking a trip in November or December, but that doesn't make it a guarantee. Even when scheduling trips further in advance, you should have alternatives in mind. If nothing else, make sure you know how to collect a refund or voucher.
The second variable is how you prepare leading to the trip and what you do upon your return. Any potential exposure to COVID-19—local or abroad—requires quarantining and strict social distancing for two weeks both before and after your trip. This limits your risk of catching the virus, and helps prevent its spread.
Keep that in mind as you plan. It may affect other activities on your schedule.
4. Talk to an expert travel advisor.
Travel advisors are more than agents. They're experts, ready to guide your travel as much as sell it. With so many moving parts and the state of travel constantly in flux, you need someone in your corner.
The best way to figure out when and how it's safe for you to travel again is to speak to an advisor.
Travel advisors go through extensive training to learn the ins and outs of the industry and provide you with the tools to have the best trip possible.
They can answer questions like:
Given your location, what options are available to you? (Practically speaking, depending on where you're located, airline carriers might not be able to offer flights that will get you to your desired destination.)
What can you do with your budget?
How can you save money on travel deals?
What will prices look like in the future?
What safety measures are being taken in the locations you're interested in?
What rights do you have if you need to cancel a trip due to an outbreak?
What if you want to book a trip now, but you decide to postpone it?
There's also a chance they'd advise you against traveling at all. But that doesn't mean it's the end-all, be-all. They can suggest "staycations"—a day trip to the beach, a nearby hike—and keep you updated as destinations continue to reopen.