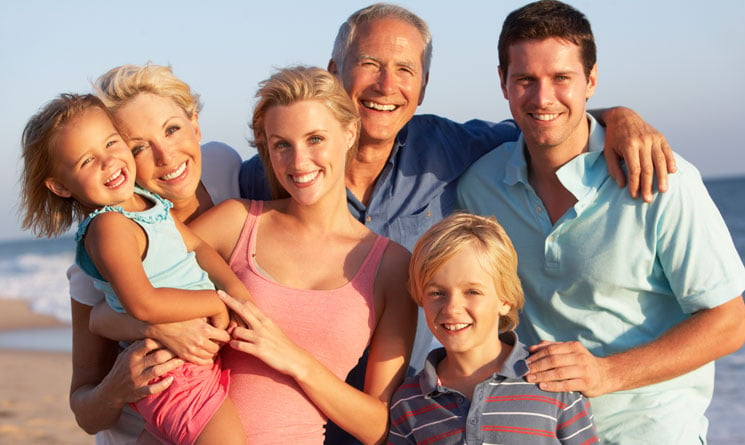 Multigenerational travel is not a new trend, but there seems to be an increase in the number of trips families are taking together – whether that includes grandparents, parents and grandchildren or just grandparents and their grandchildren.
A Wall Street Journal article by Alina Dizik from 2013 discusses the growing inclination of grandparents in regards to traveling with grandchildren alone. Dizik states, "As grandparents pursue adventure travel well into their golden years they are taking grandchildren along for the ride," so they can spend one-on-one time with their grandchildren and create lasting memories. Additionally, a 2014 AAA survey further exemplifies the growing numbers of multigenerational travel. According to the survey, 36% of American travelers were planning on traveling with their families within the next year. The article continues with more statistics. "For more than one-quarter of Americans, these multi-generational trips will include three generations – they will travel with both their children and their parents or in-laws. Another five percent will travel with their grandparents and 15 percent plan to take their grandchildren on vacation."
However, one piece of advice grandparents should consider when traveling with grandchildren by themselves – besides having all the documents handy – is to consider the best vacation spots that will be fun for both you and the kids. Remember, it's called a "vacation" for a reason. Ask your grandchildren where they would want to go and do some research to find out if there are any accommodations and activities for adults. The same rules apply when you are traveling with other extended family members because everyone is supposed to have a good time.
With that in mind, take a look at some kid-friendly destinations in the U.S. for families.
---


1. Orlando, Florida
There are so many theme parks you can go to with your grandchildren in Orlando, Florida. You can take them to Discovery Cove or Universal Studios. Check out the Orlando Science Center's awesome exhibits, such as Mummies of the World and Science Live! Uncover underwater adventures at SeaWorld. So many places to go, so many memories to make.
However, with all the options Orlando as to offer, Walt Disney World proves time and time again that it is "where dreams come true" no matter how old you are. With countless attractions and activities to explore, such as Cinderella's Castle, the Magic Carpets of Aladdin, Disney's Family Magic Tour, Enchanted Tales with Belle from Beauty and the Beast, the American Heritage Gallery and Disney's Keys to the Kingdom Tour, you will never run out of things to do.
And although these places are definitely more about the kids than anyone else, adults can still enjoy themselves too. You will cherish the moment when your grandchildren meet their favorite Disney characters or watch SeaWorld's sea lion show for the first time.
This is probably a good time to remind you that planning is essential when traveling with children. Since Orlando in particular has many choices when it comes to theme parks and activities, consider asking the kids before the trip where they want to go and what attractions they are especially excited for. That way, you can create a travel itinerary to keep you organized. Plus, if one exhibit has a long line, you will have a list of back-ups.

2. Washington D.C.
This is a great place for multigenerational travel because there is something for everyone. Plus, a lot of the places you can go to are either inexpensive or free. For example, you can visit the White House Visitor Center as well as the Lincoln Memorial, the National Geographic Museum, Kenilworth Aquatic Gardens, the National Museum of Natural History, the National Zoological Park and the Library of Congress. And those are just a few options.
Visiting Washington D.C. is probably best to do with children who are a bit older. A 4-year-old may not appreciate the experience as much as an 11 or 12-year-old who can make the connection between what he or she are learning in school and what is right in front of him or her. For instance, after learning about some of United States' past presidents, getting to see the White House in person would be surreal. After reading about the creation of the telephone and sound recording, kids would probably revel in the National Museum of American History exhibition about Alexander Grand Bell, which will be open until the end of January next year. Activities like these are both interesting and educational for everyone.


3. Niagara Falls, New York
Niagara Falls is another fun family vacation spot. The falls will take everyone's breath away. And there are some many exhibits and tours you can venture off to and take part in. For instance, the Niagara Gorge Discovery Center highlights the area's history. It is also the home of several hiking trails. Kids can even embrace their inner daredevils by going rock climbing there. Certain activities have age requirements, so be sure to check their website to find out.
There are also plenty of opportunities to in even closer proximity to the falls, including several tours that bring you up close and personal, such as the Cave of Winds Tour. Plus, senior travelers can head over to the Seneca Hickory Stick Golf Course nearby for some recreation relaxation.


4. San Antonio, Texas
Theme parks, zoos and other kid-friendly attractions will guarantee fun for the whole family in San Antonio. The Kiddie Park is perfect for younger children; they can play carnival games, ride a pony and get their faces painted. Go back in time and take a tour of the Alamo, which is free to the public. Take the kids to the Witte Museum or The Cave without a Name. They will be amazed at the incredible cavern they get to walk through. Not only will the kids enjoy themselves and learn about Texas culture and history, but so will you.
More relaxing, low-key activities include immersing yourself in the beautiful San Antonio Botanical Garden or the San Antonio Japanese Tea Garden. The latter is actually not far from the San Antonio Zoo, which is the home to more than 9,000 animals. Some include the American alligator, Texas map turtle, fairy bluebird, southern white rhinoceros and North American black bear.


5. Monterey, California
Though there are several other well-known destinations in California, such as San Diego, San Francisco and Santa Barbara, Monterey also fits the bill for one of the best family vacation spots for multigenerational travel. Of course, there are the breathtaking beaches where families can spend their days swimming, kayaking or just taking in some vitamin D while catching some z's by the shore. You can visit – or stay in – Fisherman's Wharf. The kids will love trying to spot whales that are frequently seen in the area. Plus, there are several restaurants, shops, boat tours and fishing.
The Monterey Aquarium, located in Cannery Row – a district about 5 minutes from Fisherman's Wharf – is a popular attraction as well. And adults will love the wineries located in Monterey because there are designated areas where children can play.