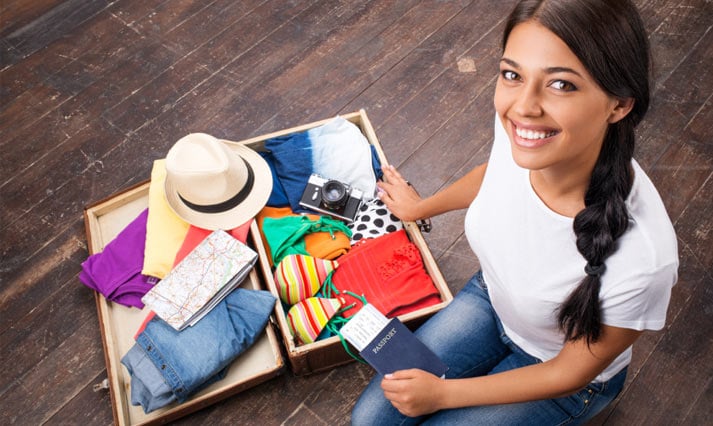 Don't you just hate it when you finally get settled into your airplane seat and realize that you need something that you forgot to pack in your carry-on luggage?
It's the WORST!
Maybe you forgot your headphones, maybe you left your charger plugged in at home, or maybe you didn't pick up that pack of your favorite gum that you absolutely need to chew for your precious, delicate ears.
We know the feeling! So, here's a handy carry-on packing list:
Flight documents
ID/Passport
Wallet
Cell phone
Glasses Sunglasses
Laptop/Tablet/Book (for in-flight work or entertainment)
Chargers
Headphones
Gum
Valuables/Jewelry
Makeup Small Toiletries
Extra clothes (just in case the airline loses your luggage—better safe than sorry!)
Scarf/Sweater (if the plane gets chilly… which we all know it will!)
Hair Iron (if you have the room)
Now, how you pack is just as important as what you bring with you on the flight. You want to make sure that any items you will absolutely need are easy to grab and easier to find.
Here's the best way to pack your carry-on luggage:
SORT ITEMS BY CATEGORY
Electronics, toiletries/makeup, valuables, clothing items, items you will need to access easily (flight docs, glasses, gum, headphones, scarf/sweater)
TAKE ADVANTAGE OF POCKETS AND POUCHES
Before loading up your carry-on, combine the categories in small pouches or bags. This way, you'll keep all the items together, plus you'll have more room AND quicker access to your things. Goodbye, rummaging!
PACK WHAT YOU WON'T NEED FIRST
Pack the items you most likely won't need on the flight first. These would be your valuables, extra clothes, makeup and hair iron. Use extra pouches to keep them all together within their respective category!
PACK YOUR MUST-HAVE ITEMS LAST
Reserve those easily accessible pockets in your carry-on for those items that you know you'll want, like your reading material, your ticket or your passport, and pack them last. If you're stuck at the airport, you may need your charger for your cell phone, so you'll appreciate having it handy. And if you get cold on the flight, the last thing you want to do is unearth your sweater that you buried at the bottom of your carry-on!
With the right amount of prep, you'll be all loaded up and ready to go on your next adventure!
Want to learn how to become a travel agent yourself and put these tips to use while getting paid!? Check out our FREE eBook on working from home as a travel agent.
See you on your next flight!