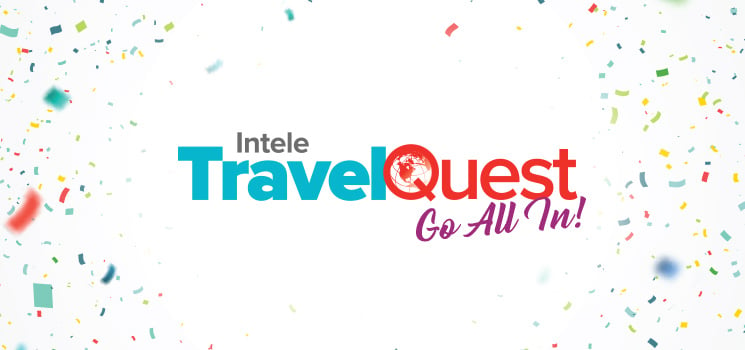 InteleTravel's annual conference to feature over 80 virtual product training and sales skills seminars, digital trade shows with leading travel suppliers, exclusive shows by the top cruise performers, and special guests Dr. Calvin Johnson from Royal Caribbean and Captain Kate McCue from Celebrity Cruises.
Delray Beach, Fla. (March 19, 2021) – InteleTravel, the world's largest travel host agency, announced it will host its annual conference, InteleTravel Quest, virtually for the first time in the company's 30-year history on March 19-21.
InteleTravel has invested more than $1 million in technology and resources to bring the annual event's impressive in-person experience from previous years to a safe, large-scale digital environment filled with education, entertainment, and high-profile industry speakers for its independent advisors and partners.
The annual conference will feature virtual cocktail hours and award receptions, hundreds of thousands of dollars in giveaways, exclusive entertainment, and real-time presentations, including:
A "Fireside Chat" with Royal Caribbean Global Head of Public Health and Chief Medical Officer

Dr. Calvin Johnson

An inspiring keynote by special guest

Captain Kate McCue

, the first-ever American woman named captain of a "mega" cruise ship
Custom-made shows from top cruise entertainers, like "

The Choir of Man

" and Comedian Tommy Drake, performed exclusively for InteleTravel Quest
A one-of-a-kind engaging adaptation of "Hollywood Squares" featuring executives from Carnival Cruise Line
In previous years, the annual conference has hosted more than 3,000 attendees and featured live performances and keynote presentations from former American Express CEO and Chairman Ken Chenault, as well as Bravo TV Host Josh Garcia from "The Voyager with Josh Garcia."
"This year, our goal is to bring our independent advisors and partners safely together from the comfort of their own homes and deliver an interactive experience that provides both high-quality education and premium entertainment," said James Ferrara, co-founder and president of InteleTravel. "I'm incredibly humbled by the dedication, optimism, and performance our agents continue displaying throughout the pandemic, as well as the time, creativity, and innovative thinking our team and partners have put into making our annual conference a virtual event to remember this year. We've been working non-stop to provide our growing network of agents with the resources and technology needed to work-from-home and succeed during these unprecedented times, and far beyond the booking boom we're anticipating in the coming months."
In addition to providing an entertaining experience for its independent travel advisors, high-quality training, education, and marketing—a trademark of InteleTravel's ongoing offerings—is an equally important element at the company's annual conference. This year's event will feature more than 80 product training and sales skills seminars, interactive discussion panels with top agents and industry leaders, live breakout classes and one-on-one meetings, digital trade shows with leading travel suppliers, awards for top-performing advisors and partners, and special presentations from InteleTravel executives.
InteleTravel Quest's featured organization this year is 4ocean, a purpose-driven business founded to help end the world's ocean plastic crisis. Since launching in 2017, the company has removed more than 10 million pounds of plastic from the ocean, which is then recycled or manufactured into bracelets for sale among other products from its growing catalog. For every product purchased, 4ocean removes one pound of trash from the ocean, rivers, and coastlines. In support of this mission, InteleTravel has purchased 3,000 bracelets to send to all attendees while contributing to the removal of thousands of pounds of plastic and trash from the oceans.
About InteleTravel
InteleTravel is the world's oldest and largest travel host agency with a growing network of more than 60,000 independent home-based advisors across the U.S., U.K., Caribbean, and Mexico. The company is recognized by every major travel supplier, including every resort and hotel brand, cruise line, vacation company, car rental agency, and tour operator in the world. Over the course of its 30-year history, InteleTravel has become known for its leadership in travel sales, robust preferred supplier relationships, innovative agent education programs, and cutting-edge travel technology. For more information, visit www.InteleTravel.com.