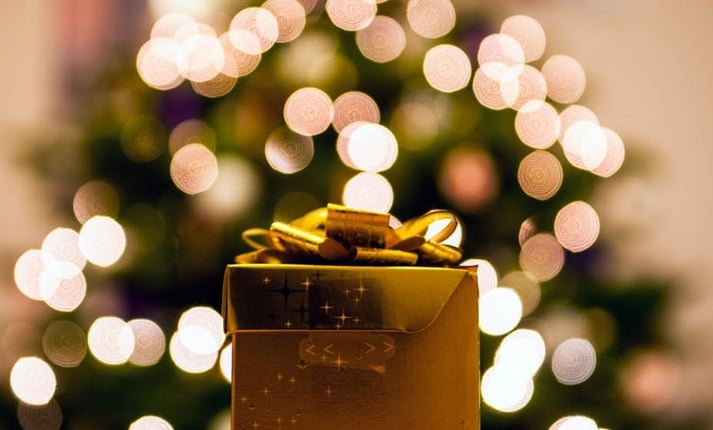 There's nothing quite as magical as Christmastime in New York City.
Whether it's enjoying the rich history of Macy's Herald Square or gazing at the sparkling Rockefeller Center Christmas Tree, spending December in mid-town Manhattan is sure to leave every visitor awestruck with seasonal wonder.
If you're one of the lucky ones visiting this dazzling city this time of year, here are a few of our favorite things to see and do:
Feel like a kid again at the Christmas Spectacular
Sure, some jaded folks might think the Christmas Spectacular is just another touristy event – but one step inside the golden art-deco walls of Radio City Music Hall and you'll be transported to another time when dreams come true right before your eyes. Once you enter the world of the Rockettes, you're taken through traditional (and some modern – hello, 3D glasses!) scenes of childhood enchantment. Watch toys come to life, visit Santa's workshop, and be reminded of the reason for the season in the "Living Nativity" scene. Seen by over 75 million people since 1933, the Christmas Spectacular is one NYC tradition that will surely last a lifetime.
Take pictures at The Rockefeller Center Christmas Tree

You can't visit New York during Christmastime and not visit this holiday classic that first took root in 1931. The world's most famous Christmas Tree overlooks the dazzling Rockefeller Center ice skating rink. Every year a massive Norway Spruce illuminates this block of mid-town Manhattan with over 45,000 LED lights. Sure, it gets crowded – but it's for good reason. This sight leaves you breathless every time.
Ooh and Aah at the Window Displays on Fifth Avenue

The high-end stores on Fifth Avenue take window shopping to a whole new level during Christmas. Spanning from FAO Schwartz on 58th Street all the way down to Lord & Taylor on 38th, every store window is dressed up for the season with a look you'll find nowhere else in the world. And while you're at it, you might even want to buy something you like, or maybe if you're lucky, Santa will get it for you. In the meantime, let your eyes be your guide.
Witness your own Miracle on 34th Street

At 34th Street and Broadway is the home of the one and only real Santa Claus, Kris Kringle himself. That's right: Macy's Herald Square is where Christmas starts and ends in Manhattan. With some of the most famous window displays in NYC, a huge golden "Believe" illuminating the building at night and elaborate decorations adorning every corner of Manhattan's largest department store, this is what Christmas miracles are made of, and why the classic 1947 movie got its name. Visit the exquisitely detailed Santaland on the 8th floor to be transported to a land of elves, toy trains, snowy wonderlands and, of course, Santa Claus.
Shop at Christmas Markets

Photo Credit: Metro
There are tons of festive Christmas markets scattered throughout the city. From Bryant Park's Winter Village to the Union Square Holiday Market and the Columbus Circle Holiday Market, and many more, these outdoor venues offer creative outlets to do some spirited shopping, grab some imaginative decorations and taste some hand-crafted candy and delicious hot chocolate.
Manhattan isn't the only borough full of Christmas Magic!
Here are some of our other favorite holiday adventures to visit if you want to spend some time away from the hustle and bustle:
Dyker Heights, Brooklyn

This Brooklyn neighborhood explodes with Christmas spirit each December. Grandiose decorations cover this NYC holiday landmark, with professional installations and huge mansions draped in LEDs, massive nutcrackers and every classic Christmas character you can think of. Neighborhood streets are completely blocked off during this month so tour buses can roll through each night. Some houses have even set up concession stands, so grab a cup of hot chocolate while you walk down the blocks completely in awe.
The Whitestone Christmas House, Queens

Photo Credit: CNN
Over in Queens, you'll find one winner of ABC's Christmas display competition show The Great Christmas Light Fight: The Lynch house in Whitestone. Beginning well before Thanksgiving, the Lynch family starts to turn their home into a real-life gingerbread house that is a true work of art. You can tell that this family decorates for the sole purpose of bringing joy to their neighborhood. The Lynches invite their guests to get up close and personal. They've hidden every wire to create a safe front yard for all to roam freely and soak in the spirit of Christmas, Lynch style.
The Garabedian Christmas House, The Bronx

A Bronx tradition since 1973, the Garabedian Christmas House, also known as The Bronx Christmas House, boasts a massive display that features more than 170 mannequins, 50 cherubs, 10 hooved animals, eight celebrity lookalikes, four fairytale characters and one baby Jesus. This isn't your typical classic Christmas house, either. The Garabedian's unique tradition features a big party celebrating the nativity. It's garish, it's over the top, and it's awesome.
The Christmas Wonderland, Staten Island

First created to honor his late wife, a victim of the 9/11 attacks, Joe DiMartino annually transforms his Staten Island home into an intricately crafted Christmas wonderland, complete with a functioning toy workshop, a bakery, a carousel...and so much more. You have to see it to believe it. With scenes recalling "It's a Small World After All" in his yard, Joe DiMartino has truly embraced the magic spirit of Christmas.