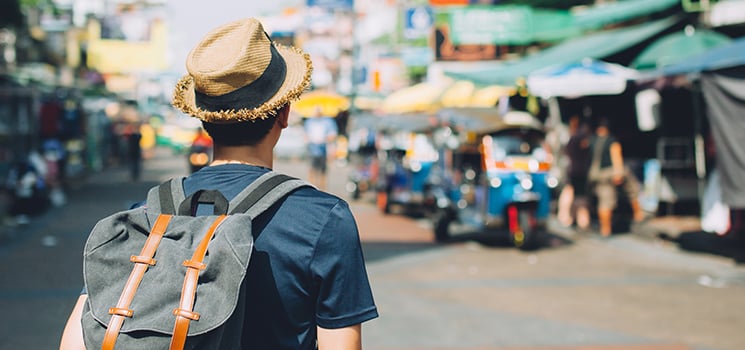 North Americans love traveling, and they don't plan on stopping anytime soon.
According to a recent consumer trends survey by travel agency Travel Leaders Group, a whopping 96 percent of the 3,500 North Americans who participated indicated they intended to travel for vacation in 2019, with nearly 90 percent stating they planned on taking the same amount or more trips than last year.That's a lot of adventures.
Even more, 76 percent responded that they'd embark on at least two leisure trips, and 36 percent reported they'd be traveling solo for at least for part of their trek.
SOLO TRIPS?
You read that right. In fact, according to 2018-2019 statistics compiled from a variety of travel industry studies by online traveler community Solo Traveler World, solo travel is the #1 trend for 2019.
What's the allure?
Much of this has to do with travelers wanting to explore this great big world more, experience authentic and memorable destinations known for their extraordinary culinary creations and heritage, or even just knock off a few bucket list cities. When their friends or family members aren't up for joining them, they don't hesitate to book alone.
"Many people are not willing to forgo vacations because they have no one to travel with, or in many cases, simply prefer to travel on their own," explains Travel Leaders Group CEO Ninan Chacko.
Here's a breakdown of the aforementioned survey's key findings:
U.S. Destinations Travelers Are Most Interested to Visit in 2019:
Hawaii
Alaska
California
Florida
Louisiana
Colorado
New York
Arizona
Montana
Washington, D.C.
Top U.S. Destinations for Solo Travelers in 2019:
Florida
California
Hawaii
New York
Alaska
Top International Travel Destinations by Region in 2019:
The Caribbean
Western Europe
Mexico
Canada
Eastern Europe
Top International Regions for Solo Travelers in 2019:
Western Europe
Caribbean
UK/Ireland
Eastern Europe
Australia