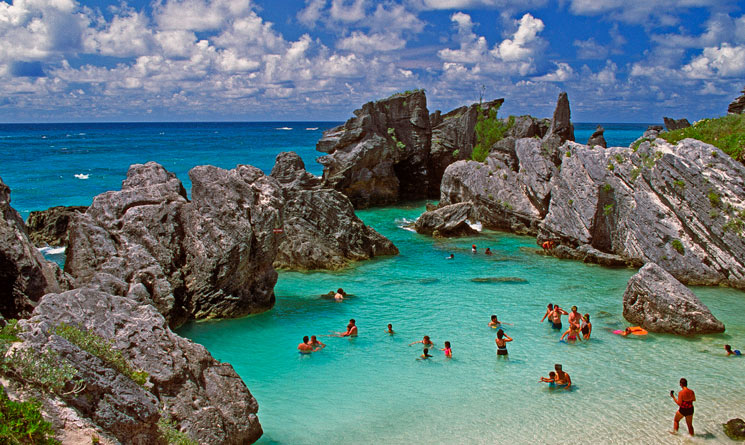 When it comes to planning your Bermuda vacation, sometimes the hardest part is not deciding when to go or what to bring, but just how to get there. Although some travelers would prefer to fly directly to their destination, others may prefer to take their time getting there by going on a cruise. In order to determine which route you should travel, it's best to evaluate the pros and cons for each option.
---
Flying to Bermuda
The Pros
Choosing to fly straight to Bermuda is a terrific option for land-lovers who prefer to spend their vacation on solid ground or for travelers who want to explore the island as much as possible. Your travel time is going to be significantly less as well. Unlike a cruise, flying isn't part of your trip—it's just your means of getting there.
Once you arrive, then the vacation really starts.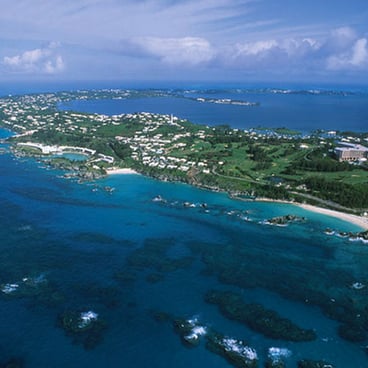 Flying will give you more time to visit famous attractions, such as the National Museum of Bermuda, Gibbs Hill Lighthouse, and Crystal and Fantasy Caves. Although you can still visit some of these places if you go on a cruise, you might not have enough time to do everything you want to. Moreover, there some people would opt for soaking up the sun at the beach rather than by an on-deck pool.
In addition, with the help of InteleTravel—a travel host agency in which you can become a travel agent on your own time—you'll always get the best deals (guaranteed!) wherever you go and however you get there. Countless hotels located in Bermuda, as well as the rest of the world, are partners with InteleTravel. Some include the Newstead Belmont Hills & Spa, Royal Palms Hotel, and Coco Reef Bermuda. InteleTravel is even partners with American Air Lines, Delta Air Lines, Air Canada, and other airlines as well, so planning your Bermuda vacation, or any other trip for that matter, will be easier and cheaper than ever.
The Cons
When it comes to the negative aspects of flying to Bermuda instead of cruising, it has a lot to do with the type of traveler you are and what type of trip you want to go on. If you're someone who always needs to keep busy, then a cruise may be a better fit for you because the party simply never stops.
Another downside of flying is that you're probably only going to be in one place for the entirety of the trip. People who want to visit more than one location should look into a cruise because many of them dock at several destinations each trip.


---
Cruising to Bermuda
The Pros
Cruising your way to Bermuda is more about the journey than the destination. Even though you'll have a considerable amount of time to spend in paradise—depending on how many days the trip will take place—you're also going to be spending quite a lot of time on the ship as well.
However, that isn't necessarily a negative.
There's so much to do on a cruise ship, which means you'll never be bored. Whether you're going with your significant other, your friends, or a bunch of your family members, there are so many activities to take part in.
For example, Royal Caribbean, Carnival, Celebrity Cruises, Norwegian Cruise Line, Regent Seven Seas, and Holland America—all of which journey to Bermuda and are InteleTravel partners—offer an abundant number of amenities for guests. Swimming pools, casinos, live shows, video arcades—the list goes on and on.
And the best part is you pay for everything beforehand.
When you fly to a destination, you usually pay for airfare, lodging, food, drinks, and entertainment at different times throughout your trip unless you book an all-inclusive. Even then, there may be some activities that cost extra. When you go on a cruise, however, you take care of the bill before you, so you won't have to worry about any additional fees, unless you decide to upgrade in order to get WiF or a better cabin.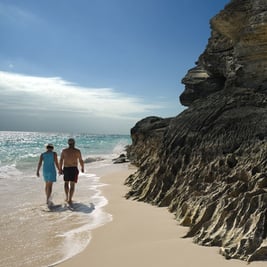 Additionally, if you've never been to Bermuda before, cruising could be a great way to determine whether or not you might want to stay there for an extended period of time at a future date. If your favorite part of the trip took place on land, then maybe next time you plan a Bermuda vacation, you will choose to fly instead.
The Cons
Similarly to flying, there really aren't any concrete negatives of going on a cruise. This all depends on traveler preferences. One person may see spending the majority of their time on the ship as a plus while another person may have an unfavorable view about the experience.
Further, some travelers would rather just go to Bermuda instead of going to multiple locations for shorter amounts of time. Still, you might not see this as an issue because you get to go to a few locations you otherwise wouldn't have gone to before.


---
Conclusion
Choosing to cruise or fly depends on what type of vacation you're looking to go on. Really think about how you want to spend your time on your Bermuda vacation—on a luxurious ship with endless activities and awesome service or at a beautiful resort where you can wake up every morning with the beach calling your name.
Either way, you can't lose because both are amazing options. You just have to decide if you would rather prepare for takeoff or to set sail.