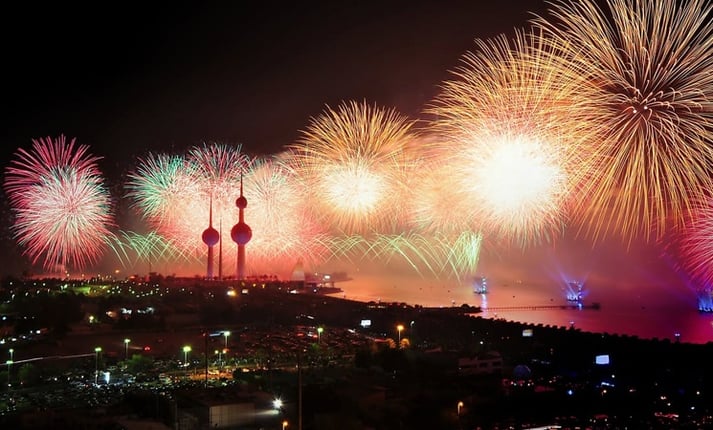 The New Year is fast approaching, and while the inevitable #NewYearNewMe posts are ready and raring to go, let's take a look at some of the best cities in America to celebrate the passage of time.
And the fact that we're all just getting older.
NEW YORK CITY, NEW YORK

Arguably the most popular city to ring in the New Year every year, NYC is widely known for its massive Times Square celebration in Manhattan, where more than a million people gather around to watch the famous ball drop.
If smooshing yourself into tight groups isn't your style, NYC offers plenty of other celebrations. Whether you want to reserve a spot at one of the many restaurants and bars that overlook Times Square or you just want to feel the electricity in the air blocks away from the main attraction in a nightclub or a local bar, there's a place for everybody here.
NEW ORLEANS, LOUISIANA

Photo Credit: GoNola
Famous for all sorts of celebrations, it's no surprise that New Orleans can really hang for a memorable New Year's Eve. Although most of the action will be happening on Bourbon Street, there are plenty of other wonderful restaurants and frienbdly bars to be in when the clock strikes 12 and you want to let the good times roll.
HONOLULU, HAWAII

Celebrate the New Year with a nighttime luau on the beach, complete with fireworks over the glistening waters of Waikiki Beach. Honolulu is family-friendly, and will leave a lasting memory of the year you're leaving behind, and be the perfect place to begin the next.
LAS VEGAS, NEVADA

No party list is complete without mentioning Vegas. Sin City never disappoints if you're looking for a wild ride into the New Year – possibly without remembering much of how you even celebrated. There are tons of bars, lounges, restaurants and clubs for you to begin your NYE party – and one that is likely to keep going long after midnight. You can bet on it!
SAN ANTONIO, TEXAS

With free music all night, a fireworks display and some of the most affordable hotels in the country, San Antonio is the perfect location for your casual New Year's Eve plans. The Riverwalk is the place to stroll as the clock strikes 12. Not too known for glitz and glam, San Antonio is better suited for those who have a hankering for Texas-style BBQ, fabulous Mexican food, and a knack for keeping things low key and down home.
NASHVILLE, TENNEESSEE

Music City USA does New Year's Eve right. With tons of celebrations going on throughout one of the most lively cities in the country, Nashville is the perfect place for the country-music lover to put on their best cowboy boots and line dance into a brand New Year.