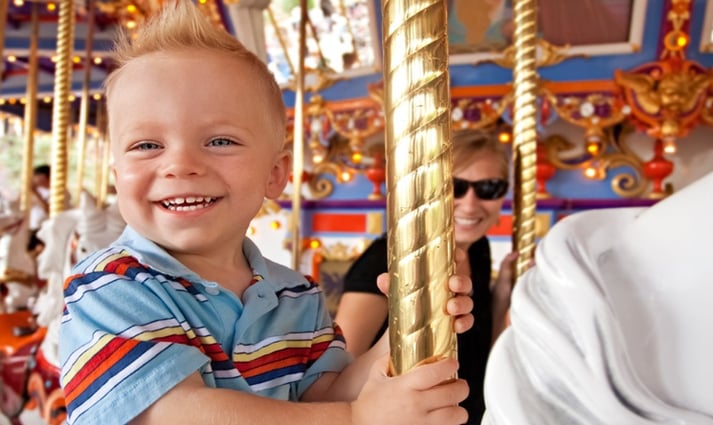 Taking a vacation where everyone is happy with the location, accommodations and amenities is oftentimes near-impossible. Vacationing with special needs can be even more difficult because of the specific requirements necessary to be able to go on a trip. However, over the years, travel suppliers have become incredibly hospitable to travelers with disabilities, including those with hearing impairments or dietary restrictions.
Just because someone has special needs doesn't mean he or she can't enjoy a fantastic vacation. Here's an overview of how Royal Caribbean and Disney Cruise Line accommodate guests who are vacationing with special needs.


---
1. Dietary Restrictions
There are so many food allergies and dietary restrictions out there—peanuts, dairy, gluten. People who have dietary needs shouldn't have to stress about what they are going to eat while on vacation.
Royal Caribbean:
Several meal options are available for passengers with specific dietary needs while cruising with Royal Caribbean. For example, guests can request low-calorie options if they cannot have a lot of sugar, and gluten-free options if they are allergic. Lori Madeo, Strategic Account Manager for Royal Caribbean, notes, "Guests on board can speak to the dietary staff" and let them know of any restrictions. However, she recommends travelers should inform a travel agent beforehand so everything is taken care of.
Disney Cruise Line:
Disney Cruise Line offers gluten-free, sugar-free, dairy-free, as well as vegetarian meals. However, passengers should keep in mind that they need to inform the cruise line of not only dietary restrictions, but any other special needs requests at least 60 days before departure by filling out a Special Needs Information Form. This is the best way to make sure that all needs can be met without any issues.


---
2. Children with Special Needs
Royal Caribbean:
In 2014, Royal Caribbean was named the first Autism Friendly Cruise Line, achieving a bronze level certification for their products and services and a silver level certification for their staff. Madeo points out that in 2015, Royal Caribbean has now been awarded a gold level certification and is the only cruise line to do so. The staff is "in tune with what environment needs to be presented to that child." They actually have their own program just for kids and every faculty member is trained to work with autistic children.
Disney Cruise Line:
Parents can make a request with the Youth Activities team to have a child with disabilities partake in the activities but at a modified rate, so no child misses out on any of the fun happening on board. Disney Cruise Line also provides a document online containing further information for people who either have autism or have children with autism in order to ensure they can make the most of their trip. Contacting the Special Services team before the trip is recommended.


---
3. Hearing Impairments
Royal Caribbean:
Guests who have any type of hearing disability can rely on Royal Caribbean for assistance. For example, a visual tactile alert system can be provided to passengers upon request. This system notifies them when someone knocks on their cabin door and when a smoke detector or alarm clock sounds. Guests are also privy to closed-captioned televisions, teletypewriters (TTY) and sign language interpreting services.
Disney Cruise Line:
Like Royal Caribbean, Disney Cruise Line offers closed-captioning on televisions in common areas and cabins. Guests with hearing impairments can also request a Stateroom Communications Kit, which includes an alarm clock, phone amplifier, bed shaker notification, and TTY, as well as a smoke detector with strobe lights.


---
4. Mobile Disabilities
Royal Caribbean:
Anyone with a mobile disability won't have to stress about inadequate accommodations. Madeo states that Royal Caribbean actually offers portable wheelchair and motorized scooters to any passengers who would like help getting on board. Guests can always bring their own as well. And wheelchair accessible cabins are available, in which the doorways are 32 inches wide or more, so passengers vacationing with special needs will not have any problem getting from Point A to Point B.
Disney Cruise Line:
Disney Cruise Line also offers wheelchair-accessible rooms for passengers that have at least 32 inch doorways, ramps for bathroom entries, an emergency call button and open bed frames. Again, it would be best for guests to fill this information out on the Special Needs Information Form a couple of months before the trip in order to guarantee an available room.


---
5. Service Dogs
Royal Caribbean:
Royal Caribbean has "facilities that offer special accommodations for service dogs," according to Madeo. Service dogs are welcome onboard and can escort their owners anywhere, including the dining rooms and deck. Proper identification is suggested, just in case a guest is asked to prove his or her dog is a service dog rather than a pet, but not necessary.
Disney Cruise Line:
Service dogs are permitted onboard Disney Cruise Ships as well, though owners must have documentation that verifies they are actually service dogs. Remember that every travel supplier is different, so it's probably best to contact them directly when planning a trip in order to find out what exactly is required.
*Note: When it comes to allowing a service dog in a certain country, vaccination records and other documentation will need to be provided. However, this is different for every location. It is the owner's responsibility to find out what is needed rather than the cruise line or any other travel supplier. It is best to check the United States Department of Agriculture: Animal and Plant Health Inspection Service to learn about traveling with an animal and talk to your dog's veterinarian to find out more.


---
6. Dialysis Restrictions
Royal Caribbean:
Any travelers requiring dialysis can still enjoy themselves. Royal Caribbean actually works with Dialysis at Sea, which is a dialysis services provider specifically focusing on cruise passengers, so guests do not have to worry about not having access to the right equipment and services.
Disney Cruise Line:
Disney Cruise Line tries to accommodate every guest who is vacationing with special needs. Contact the cruise line directly by phone at (800)951-3532 or email in order to find out what they offer.
Everyone deserves to go on a fun trip, regardless of whether or not they have a disability. They key is to find out what different travel suppliers offer in terms of accommodations for guests vacationing with special needs. Many travel suppliers are willing to assist guests as long as they are notified in advance. Do your research and uncover what would work best for you.
To learn more about the other services Royal Caribbean and Disney Cruise Line offer, be sure to check out their websites for additional information.