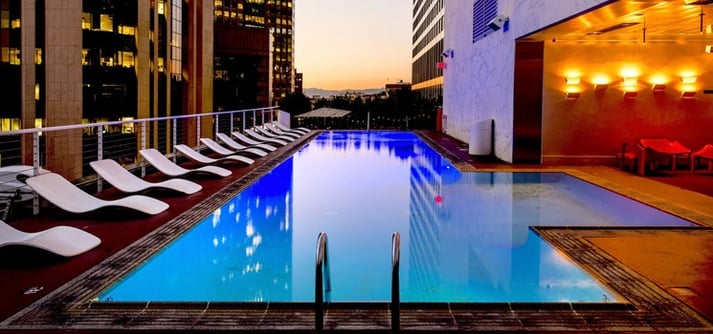 InteleTravel Agents, are you as excited as we are for InteleTravelQuest 2018!?
This annual conference and trade show is an extravaganza unlike any other, loaded with top-level training sessions and educational courses, amazing networking opportunities, and plenty of fun, fun, fun! As InteleTravel agents, you are privy to a variety of special deals and offerings, beginning with your hotel accommodations at the Hilton Orlando Buena Vista Palace.

Register and book your hotel room today to take advantage of all the extraordinary benefits and exclusive savings!

InteleTravel's independent travel agents are all invited to "The Happiest Place on Earth," World Disney World Resort in Orlando, Florida, to learn, earn, grow, celebrate, and help change the travel industry from the inside out.
InteleTravelQuest 2018 offers three jam-packed days filled with tons of remarkable experiences, including: 80 classes with the world's best travel brands, a travel trade show featuring more than 50 partners, hundreds of giveaways and prizes, news and development training, keynotes from industry gurus, official CLIA (Cruise Lines International Association) training classes, and fun social entertainment and events!
But that's not all, of course.
We've got your hotel accommodations hooked up—from special rates and Disney-related perks to exceptional services and amenities that will make your stay truly unforgettable!
As an agent attending InteleTravelQuest 2018, don't miss out on the chance to stay at one of the most beautiful hotels in the area, for a fraction of the regular cost. That's right: InteleTravelQuest's conference hotel discount is NEARLY 50% OFF!
These terrific savings are just one of the many exclusive benefits for InteleTravel agents attending this year's InteleTravelQuest—and one of many reasons to book your hotel room now!
Here are six amazing facts about your conference hotel accommodations at the Hilton Orlando Buena Vista Palace, and why you should Reserve Your Room Immediately:

It's an Official Walt Disney World® Hotel
That means you get all the Disney perks, including a free shuttle to theme and water parks every 30 minutes, a stunning view of Epcot's nightly fireworks, and a renovated, new, beach-entry pool and float lagoon.
If you book your stay through our hotel link, your resort fees are waived! That's a $25/night savings!
Discounted Rooms Just for You
Starting at just $150/night, staying in Disney has never been more affordable! Want to hang out a little longer? You can also get our discounted room rates for three days before or after the conference!
Discounted Theme Park Tickets
If staying at our conference partner hotel, you're also eligible for discounted Walt Disney World® Park Tickets.
The Resort is Breathtaking
Newly renovated, the Hilton Orlando Bueno Vista Palace is truly an oasis. Located in the Disney Springs resort area, the hotel features stunning panoramic views, incredible dining options, Sunday Disney character breakfasts, Magical Moments with Disney In-Room celebrations, and is just around the corner from world-class golf courses—it also has a free float lagoon and relaxing pools (but we told you that already)!
It's the Only Hotel That Will Grant You Travel Agent Discounts
It's IMPORTANT to note: Hotel rates have been specially negotiated for agents attending the conference. Due to travel industry standards and the large number of agent attendees, InteleTravel Agents are specifically prohibited from requesting travel agent rates or professional privileges at host hotels or any other accommodations within Orange County, FL, which includes the greater Orlando area, or from any Disney attraction in the area, during the week of Jan 1 - 8, 2017. Violations could damage InteleTravel's partner relationships and brand image, and thus will be dealt with severely.
BONUS!
Since we love giving back to our Agents, anybody who books their hotel room and register's for the conference before September 30th will be entered to win some free invitations and giveaways like:
Exclusive invitations to special Disney property resort tours and lunches
Invitations to nearby exclusive ship inspections and lunches on board
Plus some great travel giveaways like hotel nights and Vacations stays
We couldn't be more excited to see everyone in Orlando this January. Starting the new year off among such an inspiring and talented group of agents is one of the best parts of what we do!
So be sure to REGISTER FOR INTELETRAVELQUEST 2018 and BOOK YOUR EXCLUSIVE HOTEL ACCOMMODATIONS TODAY before you miss out!