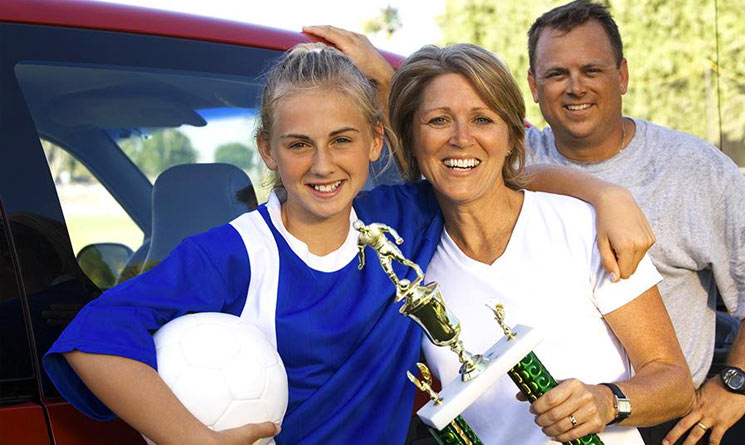 As much as you like watching your children have fun playing on travel sports teams, they're not the only ones making a big commitment—so are you. With that comes a lot of responsibility. You are not only their chauffeur, but their own personal travel agent as well. This travel can become quite expensive as well over the long term.
That is probably the most difficult part of having a child on a travel sports team—making arrangements for tournaments that will take you out of state, or at least far enough away from your home that you'll need a place to stay. Who has the time to book hotel rooms and flights when you already have an endless list of things to do on a daily basis?
Fortunately, there's an opportunity that makes booking travel arrangements for sports tournaments much simpler.
Travel touchdown
Although it may seem as if searching aimlessly on the Internet for hotels and flights is the only way to book travel on your own, this couldn't be further from the truth.
The most efficient way to do this is to become an independent travel agent yourself.
Now you might be wondering how to become a travel agent and what it's all about.
Unlike traditional travel agents, you won't have to sell a certain amount of money in travel for a specific number of clients in order to keep your job. In fact, being an independent travel agent means that you can book travel on your own time for whomever you want to even if the only client you have is yourself.
Host agencies that allow people to become agents, such as InteleTravel, don't pressure members to book travel more than they are able to. You don't have to go on any interviews, meet any education requirements, or put in "X" amount of hours a week. This means that you could book a hotel room for your daughter's last soccer tournament of the season and not book anything else until the new season starts.
Score some serious savings
Once you become an agent, you'll have connections to countless travel suppliers. As a result of these relationships, you'll find the most affordable travel deals and sometimes they aren't offered anywhere else.
Plus, you can even book travel for team members and their families so you can help them save money as well.
And the best part is that either way—whether you book for yourself or someone else—you'll earn a commission.
Be a part of your own team
When you're an independent travel agent, you obviously work on your own. You're in charge of when you make travel arrangements for sports tournaments and for any other occasions, and how many people you book those arrangements for. However, you'll have the support of your host agency and other agents as well, which means you'll never actually be alone.
Can't wait to get started? You can find out more about InteleTravel in a matter of minutes.