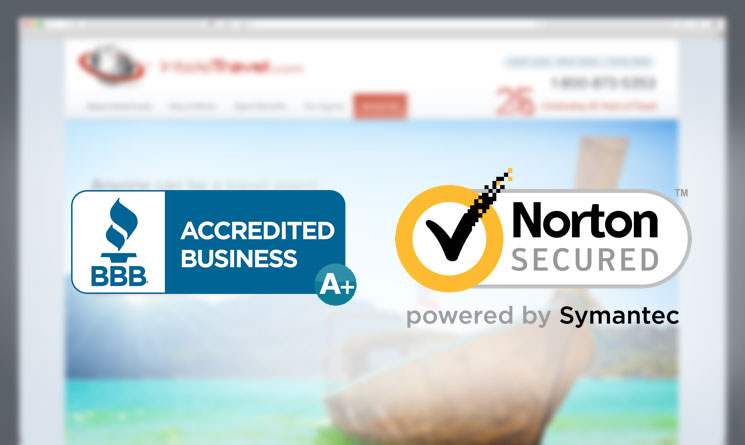 Completely legit
InteleTravel has been in business for nearly 25 years and we are known for our leadership and outstanding customer satisfaction rate. Although there are many instances of fraud in the travel industry, InteleTravel is definitely not one of them. We are Norton Secured, Better Business Bureau-accredited business with the highest ratings, and are proud to have been awarded the BBB Online Reliability Seal. We're also appointed and recognized by the travel industry regulatory authorities, the Airlines Reporting Corporation (ARC), the Cruise Lines International Association (CLIA) and Vacation.com, which is the world's largest travel agency marketing consortium.
The answer to the question—"Is InteleTravel a scam?"—is absolutely not. We're recognized by every major travel brand in the world and sell travel to every destination in the world. Our goal is to make travel better, easier and more affordable for our customers as well as provide an easy and profitable work from home job that can be full time, part time or just a hobby.
A 3-part InteleTrust Guarantee
1. We guarantee your satisfaction with our unique program with a 100% No Questions Asked, Money-Back Guarantee.
2. We guarantee you will not lose money in your first year with our revolutionary Profit Guarantee
3. We guarantee the prices we provide on travel will be the best available, and will meet or beat competitors.
How to tell the difference
Be cautious of "card mills" in which a fraudulent company provides you with a worthless travel agent ID card that will supposedly give you access to industry privileges and reduced rates.
The tools available to InteleTravel agents result from our accreditation with travel industry organizations and long partnerships with the world's top travel providers. Such marketing tools include sophisticated direct mail and email marketing systems, industry leading agent education on the top brands in travel as well as sales and business skills, negotiated rates and exclusives with cruise lines, vacation companies, hotels, car rentals and airlines. Additionally, we provide business cards, sales and print advertising materials and a personalized travel selling website so you can find clients, unlimited support and mentoring.
InteleTravel does not give you any kind of ID card that will magically grant you access to benefits. Instead, once you become a travel agent with a recognized travel agency leader, you're automatically privy to real travel deals and upgrades. All you have to do is book the trip.
No commitment
We want our agents to stay with InteleTravel for as long as they wish – on average they now stay for over 7 years. However, we understand that some agents may decide not to continue. Although we don't like to say goodbye to our agents, we have made it hassle-free to cancel enrollment.
There aren't any long-term contracts when you sign up. Think of us like the ultimate fitness center of the travel industry; your membership can be canceled at any time. Plus, you won't lose any money if you choose to do so because the initial enrollment fees are easily recouped when you book your first trip – for you, a friend or a client.