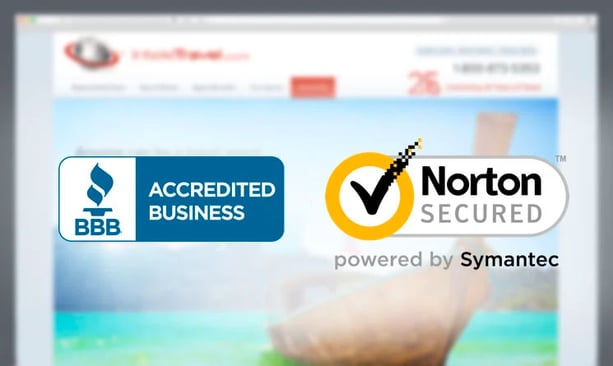 The travel industry has had many instances of fraud. InteleTravel has not contributed to them. That's the truth.
So the succinct answer to whether or not InteleTravel is a scam is an emphatic 'no,' but there's much more to it. In fact, we've built a reputation as one of the most trusted names in the industry.
InteleTravel has been in business for more than 25 years, and we are known for our leadership and outstanding customer satisfaction rate. We are Norton Secured, Better Business Bureau-accredited business, and are proud to have been awarded the BBB Online Reliability Seal.
We're also appointed and recognized by the travel industry regulatory authorities, the Airlines Reporting Corporation (ARC), accredited with International Airlines Travel Agent Network (IATAN), the Cruise Lines International Association (CLIA), and Ensemble Travel Group, which is a travel agency marketing consortium. Our executives are requested on industry advisory boards to represent the entire travel industry.
Furthermore, we work with every major travel brand—for flights, car rentals, cruises, hotels, resorts, and more—and send customers to destinations around the world.
Our goals are to make travel better, easier, and more affordable for our customers as well as provide an easy and profitable work-from-home job that can be full-time, part-time, or just a hobby.
We not only accomplish these goals, but people love working and traveling with us.
Travelers Love Booking Through Our Advisors.
Don't you miss human contact? It's all but gone from booking engines. Travelers spend time comparing rates on websites or apps, conducting their own research, and building itineraries on their own without the assistance of an expert. If something goes awry on the trip, good luck getting any substantial help.
Those are practical reasons why working with advisors has its benefits, but the reality is they provide a personalized travel experience. At every turn, they have answers to your questions—and you don't even pay them (not at InteleTravel any way).
Instead, advisors give you access to exclusive rates, upgrades, and suggestions just because you contacted them in the first place. This has resulted in thousands of satisfied travelers who enjoyed one-of-a-kind adventures in destinations they never even dreamed of.
So, if you're interested in booking that once-in-a-lifetime vacation, request a travel advisor today. You'll save money, and maybe develop a fruitful relationship you'll benefit from for years to come.


Advisors Love Working With Us.
Advisors use their at-home travel businesses in different ways. For some, it's a hobby, a way to put their passion for travel to good use. For others, it's a legitimate career or side job to supplement their income.
No matter the reasons behind their enrollment, we support all of our advisors with the top-end tools necessary for them to be successful.
We provide educational resources (including ebooks, videos, and more), free personalized websites, assets for social media and email marketing, and multiple communication lines to ensure that advisors grow their expertise and discover the best ways to apply it.
We also host an annual event that's part educational conference part party: InteleTarvel Quest. The work hard, play hard mentality fits right into the profession. It should be fun and fulfilling to book unforgettable trips for your friends, family, and followers.
Lastly, there's no commitment. We want our agents to stay with InteleTravel for as long as they wish—on average they now stay for seven years or more. However, we understand that some agents may decide not to continue. Although we don't like to say goodbye to our agents, we have made it hassle-free to cancel enrollment.
There aren't any long-term contracts when you sign up. Think of us as the ultimate fitness center of the travel industry: Your membership can be canceled at any time. Plus, you won't lose any money if you choose to do so because the initial enrollment fees are easily recouped when you book your first trip—for you, a friend, or a client.


We're Good at What We Do.
InteleTravel has a three-pronged guarantee for our advisors we call 'InteleTrust':
We guarantee their satisfaction with our unique program with a 100% No Questions Asked, Money-Back Guarantee.
We guarantee they will not lose money in their first year with our revolutionary Profit Guarantee
We guarantee the prices we provide on travel will be the best available, and will meet or beat competitors.
Those guarantees indirectly extend to travelers. Every advisor that enrolls with us works incredibly hard to improve their craft and make the travel experience better for you. The results speak for themselves: We've never over-charged for travel. We've never left travelers stranded. We've delivered a wide array of dream vacations, from destination weddings to family reunions and so much more.
Our work and authority have also been recognized by prestigious organizations. In 2020 alone, we received three Magellan Awards from Travel Weekly: Gold winner in Travel Agent Innovation, Silver winner in Marketing & Promotions, and Silver winner in Overall Training Program.
Those honors added to our impressive list of distinctions including the Carnival Cruise Line Eastern Region Excellence Award, the Norwegian Cruise Line Breakout Partner of the Year (we're also a President's Club Platinum member), an Ensemble Travel Group Elite Agency, a Travel Impressions Best of the Best, and more.
Finally, as the coronavirus pandemic threw the travel industry into flux and left serious doubts in the minds of would-be tourists, our co-founder and president, James Ferrara, served as a leading expert. He has appeared on CNBC and FOX Business to discuss the current status and future outlook for the travel industry.
His willingness to go on national television during difficult times reflects our passion for travel. We're good at what we do. We love what we do, and we're eager to share that love with our advisors and travelers alike.