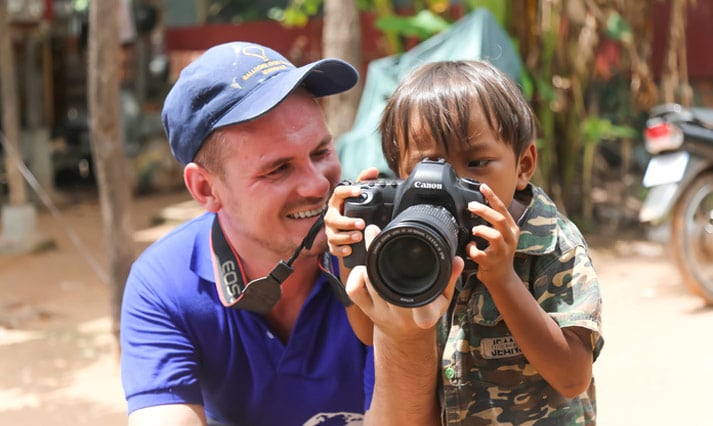 In our recent blog about 7 Awesome Instagram Travel Accounts You Need to Follow Today, we realized that Instagram is, literally, completely full of some of the most inspiring and beautiful travel photography we've ever had the pleasure of seeing.
But what about the people behind those accounts? What's their story?
We decided to take a deeper dive into the intricacies of an Instagram travel photographer, to really get an idea of what makes them tick or, better yet, what makes them click.
We spoke to Dan James, known on Instagram as @danflyingsolo, an impressive traveler and blogger who has explored 43 countries (and counting!) and believes that every photo should tell a story.
You'll notice exactly how much of a storyteller Dan truly is just by a quick glance at his page. While some travel photographers focus on landscapes and pretty beaches (although there's no shortage of beautiful scenes captured through his Canon 5D Mk2), Dan has a unique focus on the people and the pulse of every place he visits. Even his photos that lack a human or an animal element still possess an undeniable storyline, a mysterious air that draws you in and makes you want to know more.
And make you want to pay these places a visit.
Here's how Dan describes his approach.
"Before I set up [for a shoot], I will spend a while walking around and finding different angles, which can mean getting into awkward positions or lying on the floor like a nut job," he says. "The bonus is I also get to enjoy the place and see it properly without just snapping photos and moving on."
Dan obviously enjoys true exploration.
"Another thing I like is to talk to the locals," he says. "It is a lot easier to photograph something when you have got a background and vibe of the place from the people who live there."
He specifically tries to bring a unique, personal vibe when photographing landmarks that millions of other people have captured. It's a tactic that proves to be just as compelling as it sounds.
Here is the famed iconic Taj Mahal – a photographic story that you can actually feel when you look at it.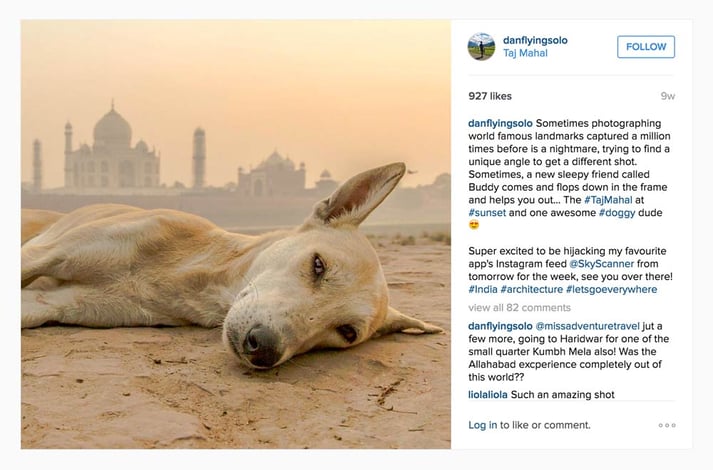 Creative by nature, Dan was once drawn to the worlds of music and art. As he began his studies in college, everything changed.
"I remember when I was at school and we studied the famous photo 'Afghan Girl' by Steve McCurry and [I was] blown away by how one photo could tell such a powerful story," says Dan, recalling McCurry's stunning photograph that appeared on the June 1985 cover of National Geographic.
"When I left for my big trip two years ago," he adds, "I decided to invest the time in learning photography as well as seeing the world."
Originally drawn to landscapes and UNESCO world-heritage sites, Dan began to focus on a deeper level of photography.
"[I] quickly realized I got much more of a buzz from meeting people and getting to know them," he says. "I think photos really should tell a story and I know in years' time [that] looking back on an epic shot of Angkor Wat won't be as personal to me as the kids I played with in a village outside of Siem Reap."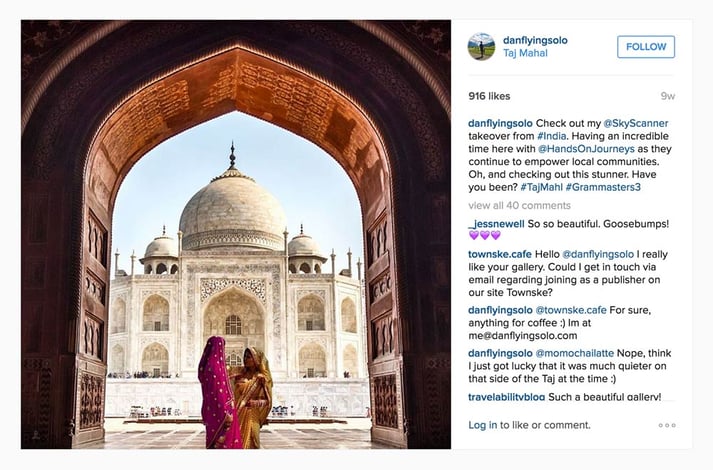 Dan truly takes this practice of connecting with the locals to wherever he visits.
On a recent trip to India he met a couple who completely stole his heart. "One of my [favorite photos] from a recent trip is actually not that impressive," he says, "but it captures such a simple moment it warms my heart from giving a polaroid to a married couple in India—a simple gift but it meant a lot to them (and me)."
Though the Indian couple holds a very special place in Dan's heart, he is very partial to Indonesia. "It's not as explored at all as many of the other countries in Southeast Asia and most people just do Bali, however it is so diverse beyond that," he observes. "Unique wildlife, jungles, remote paradises and culture all blend into one, and you could easily spend a year exploring it. From a photographer point of view, I think Myanmar stole the show. Sunrise in Bagan was an absolute standout."

Another part of Indonesia that stands out for Dan as one of his favorite moments was his visit to Raja Ampat islands. "It is dubbed 'the world's last paradise' and that is no lie!" exclaims Dan. "It was incredible to be somewhere so remote, with no phone signal and so much nature around. I didn't believe somewhere like that still existed in this world, but for now it still does."
And for the adventurer in Dan, he says, "The scuba diving was incredible, and it was such a simple existence for a week. It made me truly appreciate the world more, as well as the basics we take for granted."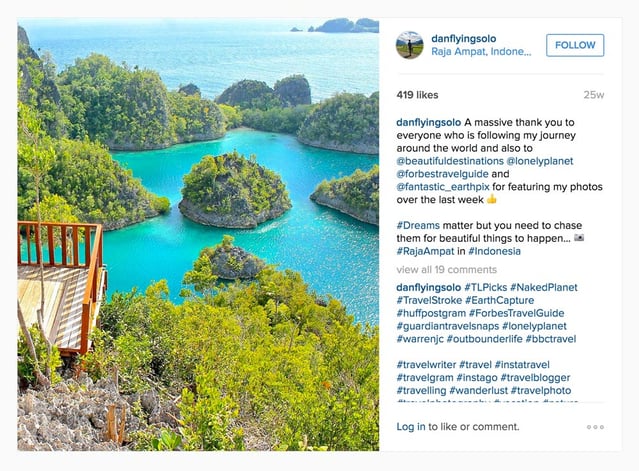 Originally from the UK, Dan has been traveling, capturing and blogging full time for the last couple of years, although he does say he wants to settle down in Sydney, Australia when he's ready to plant some roots.
Until then, he will continue to capture priceless moments and inspire us all.
"I believe media can make the world seem a lot smaller and help people to be less scared of what is out there," he says, "so I try and get that across in my photos, too. At the end of the day, we all live on this planet together, and photography is a great way to break down barriers and misconceptions."