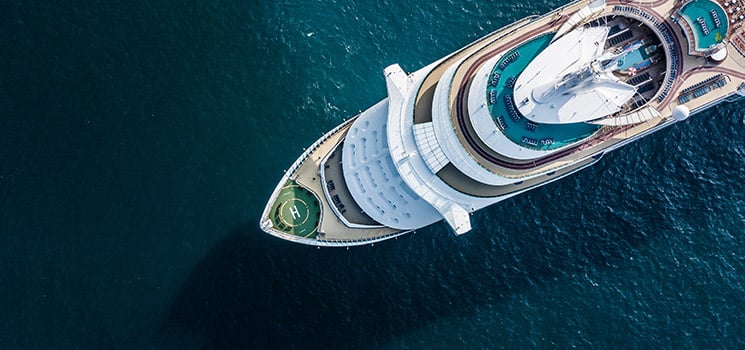 There's nothing like drifting on the open water one moment, relaxing on a tropical beach the next, packing up, and then moving to another port. Mix in some nightlife and amenities (casinos, dancing, bowling, swimming, and drinks to name a few), and you have what may be the perfect vacation.
The cruise has long been a popular choice for travelers, and why not? You can find adventure and relaxation at every turn. As the major lines set to depart again, you might be eager to get in on the fun. Know that each has set protocols to ensure the health and safety of passengers and crew members.
Crystal Cruises, for example, launched Crystal Clean+, which covers safety measures in 13 categories, from pre-boarding and embarkation to accommodations and dining, excursions and social spaces, and more.
It's a thorough breakdown of how cruise lines have worked to address the concerns of passengers and get you back out on the water in a safe manner. Better yet: Most are offering special deals into 2021.
So, how do you sort through all of the options and find the trip that will blow you away? You work with an experienced travel agent, of course.
Agents (or advisors as they're known today) walk you through every detail of the process, from booking to departure, and back. They also work directly with the cruise lines to find special deals for you.
Here are several benefits to working with travel agents when booking a cruise.
They Find the Right Cruise for You
Maybe you're one of those travelers who knows exactly where you want to go, what you want to do, and when you want to make it happen. If you're not, you might be amazed at how much a travel advisor can help you.
Think of it in terms of a cruise. Let's first consider that there are ships that travel different parts of the world—Europe, Africa, Asia, and the Caribbean, for example—and a variety of waterways including oceans, seas, rivers, and lakes. Then there are all the amenities that go with the cruise, the length of the trip, and the type of travel. Is this a couples-only thing or is the whole family, grandma and grandpa included, coming along?
Travel advisors work with you through all those details to find the perfect cruise for you. They also deal with different cruise lines regularly and know the offerings of each. Whether you're in search of that unforgettable Disney cruise or a romantic anniversary present, they have you covered.
They Have Access to Exclusive Deals
Whenever you see a 'Guaranteed Lowest Rate,' you should take it with a grain of salt. That 'low rate' could just be the lowest rate that's advertised to the public. However, since travel advisors work regularly with vendors, they have access to exclusive deals saved just for you! They work with their network to come up with solutions that fit your budget and open the possibilities for your trip.
This may include packaging upgrades or deals for off-ship activities (advisors might even throw in a few freebies). Don't be afraid to ask, either. It doesn't hurt to find out, and advisors love delivering for their customers.
They a Provide Personal Touch at No Extra Cost
Contrary to popular belief, travel advisors (at least InteleTravel travel advisors) don't charge any fees. They spend time getting to know you, working within your budget, building the perfect trips, and sharing their expertise—for free!
Speaking of expertise, you might be wondering where it comes from. In addition to their continued education, travel advisors embark on these cruises themselves. When they suggest a specific trip or offer advice on an amenity, they do so with first-hand experience. They provide a much more personal booking process than a salesperson or website, and will leave you with useful tidbits: the ins and outs of travel insurance, what pre-paid gratuity covers, and even what to pack.
That human touch can make all the difference in turning a good cruise into a great one, and having you return to them when it's time to hit the road again.