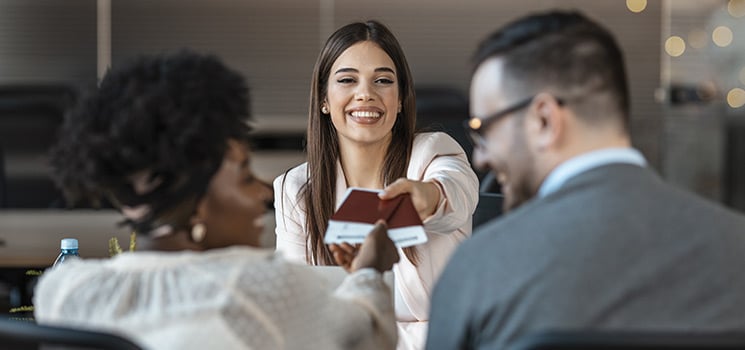 Close your eyes. Picture your ideal vacation. You may imagine yourself on a white-sand beach, settled in with a drink in your hand, crystal-blue waters in front of you, and clear skies above. If it's that seaside paradise you dream of, you'll find it in the Caribbean, a region filled with all-inclusive resorts, island getaways, and luxury stays for travelers of all types.
It's a go-to destination for stress-free living and relaxation—and that should extend to planning a trip to the Caribbean, as well.
For years travelers have turned to agents (now called advisors) to build their dream vacations, and they continue to grow in importance.
The New York Times recently called advisors "de facto party planner(s)" for eager would-be travelers. The article went on to say "Harried Americans are looking for a proper vacation, not a stressful travel-planning experience."
Advisors certainly help in that regard. So how do you find the right advisor for your Caribbean vacation, especially when the area presents so many wonderful options?
You should prioritize working with an advisor who's an expert, has first-hand travel experience, provides excellent customer service, and hooks you up with exclusive deals and upgrades when available. Read more.
They're Experts in the Region
One of the tricky things about planning a vacation is landing on a destination that lives up to (or exceeds) the hype. It seems that new buzzworthy locales emerge each year, as do travel routes to make previously tough-to-reach islands more accessible.
The best travel advisors earn certifications and stay ahead of travel trends to deliver the advice you need, when you need it. Specific to the Caribbean, they'll tailor an itinerary to your preferences, including:
The ideal destination for your preferred travel type, from luxurious, romantic getaways to jungle adventures to multigenerational family reunions
The best time to travel to your preferred destination
The most efficient ways to

travel between islands

if you so desire
The

all-inclusive packages

that will have you enjoying the trip to your heart's full content
Travel advisors also know the latest safety measures each destination, airline, and lodging have in place.
Most importantly, they're not focused on finding you the best price, but the most value for your budget. Advisors reach that level of expertise only through experience. Speaking of which...
They Have Firsthand Travel Experience
The best travel advisors travel extensively themselves. When they rave about a resort, they know it inside and out.
Say you'd like to take your family of four on a Caribbean getaway. Advisors could suggest a cruise that hits all of your preferences. They could also talk you through the most family-friendly destinations, such as the Bahamas.
They'll suggest a resort that accommodates the whole family by offering thrills for the kids and relaxation for the parents, and also provide guidance on the smaller details that make or break a trip: Are your kids picky eaters? Do you have diet allergies? What activities would you like to do outside the resort?
Beyond that, advisors know what 'all-inclusive' really means at different places, what trendy locations are really worth a visit, and the best way to get around if you're looking to explore an entire island. Should you rent a car or rely on ride-sharing?
There's a reason they say experience is the best teacher, and it's no different in travel.
They Provide Top-End Customer Service
One of the main reasons travelers love working with advisors is they provide a personal touch a booking engine just can't mimic. Great customer service goes beyond answering an inquiry, though. It involves building a rapport to get all the details of your vacation just right. The best advisors ask you about everything from your favorite place to sit on a plane to your ideal activities. They're ready to discover if you're more interested in exciting nightlife or day-time urban exploring.
In addition to securing your entertainment, advisors should be resources for every stage of your trip. They'll answer burning questions before you depart, such as: What's the best way to fend off insects on a tropical island like St. Lucia, and what's the tipping policy for your destination? They'll advocate for you if your travel plans change, and offer a travel insurance policy that delivers peace of mind. They'll follow up when you return to see just how wonderful the experience was.
The goal is not just to provide a one-time travel adventure, but to also build a relationship you'll return to again and again.
They Have Access to Exclusive Rates & Upgrades
Just as travel advisors build relationships with their clients, they also work closely with the top brands and vendors in the industry to the benefit of your bottom line.
This is reflected in exclusive rates not available to anyone else (and certainly not the general public). It also comes in the form of upgrades like access to desired amenities or complimentary champagne upon arrival.
These relationships can take your vacation from great to unforgettable. After all, who wants to choose between a Caribbean cruise and a luxury, all-inclusive stay when you could possibly have both at one price?
Even if you're someone that doesn't care where you stay, you just want to get away for a while, it doesn't hurt to ask about exclusive rates or upgrades. Your advisors work magic for a living.
The InteleTravel Advisor Difference
Now that you know what qualities to look for in a travel advisor, it's time to go find one. And that's where InteleTravel comes in.
All InteleTravel Advisors stay educated with continuing certification programs (in addition to annual events to learn about trends and network with other travel professionals), travel extensively themselves to gain experience and build their expertise, cultivate relationships with all major travel brands to provide the best prices in the industry, and advocate for you if your travel plans change.
That means you'll get the Caribbean vacation you desperately need (and have always wanted), with peace of mind.
Stress-free living starts when you contact us, and continues as you dip your toes in the sea.