Is your husband a business traveler who is constantly planning trip after trip? Are you looking for a way to bring in extra money without stretching yourself too thin? You're in luck.
Who wouldn't want to make extra income?
Uncovering legitimate ways to earn some additional cash would be helpful to anyone and everyone. Maybe you still have a mountain of student, car or mortgage loans left. Maybe your kitchen is in desperate need of a remodel. Or maybe you want to take your family on a long overdue vacation. It never hurts to have more money in the bank for a rainy day either.
Whatever the reason is, it's always a good idea to try and figure out how to make extra income fast.
You probably have a lot on your plate as it is, so the last thing you want to do when you already have a day job is work some more. That is why it's important to find a part-time position that will make you profitable as soon as you start. So what if there is a job opportunity that allows you to earn extra money without causing you any stress? In fact, what if it lets you decide how much of your time you would devote to it? Sounds too good to be true, right? Wrong.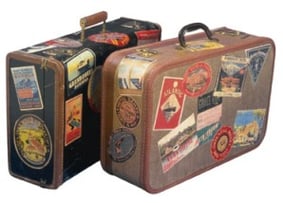 There's a simple way to make extra income: Help your husband plan his business trips by becoming a travel agent with InteleTravel.
Some benefits of being an independent travel agent:
Make extra income
Help anyone plan trips
Have as many or as few clients as you want
Create your own hours
Work from anywhere
Book travel twice a year or twice a week
Be your own boss


Fun and flexible part-time work from home
Joining the right host agency like InteleTravel allows you to book travel on your own time. Book when you want to for whomever you want to. You won't have to acquire a certain number of clients or meet a sales quota by a specific date, so there isn't any pressure to book more travel than necessary. If finding more clients is of any interest to you, then start helping your family and friends arrange their trips. You could even help your co-workers. Or just book travel for your spouse.
You make the rules.
And you'll still be profitable no matter how many people you book travel for because you'll be privy to rates and discounts from major travel suppliers. Plus, this may be a great part-time work from home opportunity, but that doesn't mean you must book travel from your house; you can work anywhere as long as you have access to a computer or phone. Speaking of working from home, that means no commuting or traffic.
The benefits of being an InteleTravel agent are endless.
The job is what you make of it, so if you're looking for a part-time, stay-at-home mom job opportunity that enables you to make extra income quickly while planning your husband's business trips, becoming an independent travel agent is definitely an enjoyable and practical part-time work from home endeavor to embark on.
Where would you like to travel?
Select your destination, and we'll pair you with an InteleTravel Advisor based on your travel needs.