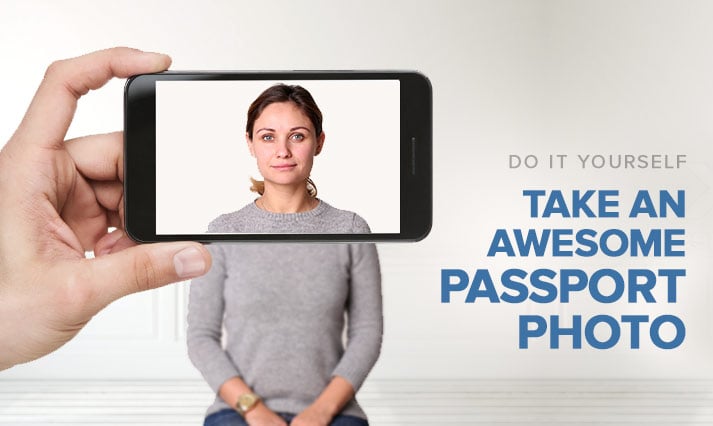 What's your passport photo look like? That bad, huh?
If you're anything like us, you've trekked on over to a post office (one that takes the photos for you… who knew they all don't do it) or to your local Rite Aid (or Duane Reade? CVS? Walgreens?) to go through the awful ordeal of having somebody snap your passport photo.
And it never looks right.
You're in a rush. The guy is taking forever. You're basically annoyed, and you end up with some 2x2 mini picture that makes you resemble a hot mess of frustration.
And that picture lasts. For 10 years.
You actually cringe when you have to show it at the airport, and you start to mumble some excuse about why you looked that way at the time.
"I swear it's really me!"
Well, did you know that you can actually take your very own passport photo in the comfort of your own home? In an era of selfie-feigns, who doesn't love that idea?
As long as your picture meets all of the passport guidelines put forth by the U.S. government, you'll be all set and able to keep re-shooting until you get the perfect passport picture.
Because if you're going to become a jet-setting travel agent, you'll want your passport to look the part.
Things You'll Need:

Glossy or matte quality photo paper
A computer
A high-quality photo printer (or a local photo printing service center)
Now for the fun part.


Set Up Your Photoshoot:
To be fancy, let's call this a photoshoot.
U.S. government requirements indicate that you'll need a white or cream-colored background, so if your walls are hot pink, you're going to have MacGyver it. A poster board would work wonders in a pinch.
The next part is a little tricky so you'll probably want the help of a friend. Adjust the lighting so that there are absolutely no shadows or glare on your face or around your head or your body.


Set Up Yourself:
You can refer back to the passport guidelines for a full list of restrictions, but in general you should look like your everyday self. This isn't the time to experiment with blue eyeshadow.
Wear your everyday clothing and normal hair style
No hats or headgear unless they're worn daily for religious purposes (in all cases, no covering of the face is permitted)
No sunglasses or tinted glasses (prescription glasses, however, are allowed)
Get Ready to Shoot, Edit, Print, and Send!
Now that you're all ready for your amazing passport photo, prepare to take some pics! It's best to sport a full face, frontal view with a neutral expression and both eyes open. Smiles are acceptable, but don't make goofy faces! Leave plenty of background around your head and shoulders. If anything, it's better to be more zoomed out than in because you will be able to crop it later.
Once you take a few pictures, upload them to your computer. You can use this passport cropper to help guide you. Just make sure you stay as close to the lines as possible!
Once you've made your ideal selection, print out your photo either from your high-quality photo printer or at a local photo center. Attach it (one picture only!) to your passport application. Then get ready to plan your international dream vacation!
And start smiling because soon you'll be on your way to travel agent bliss.