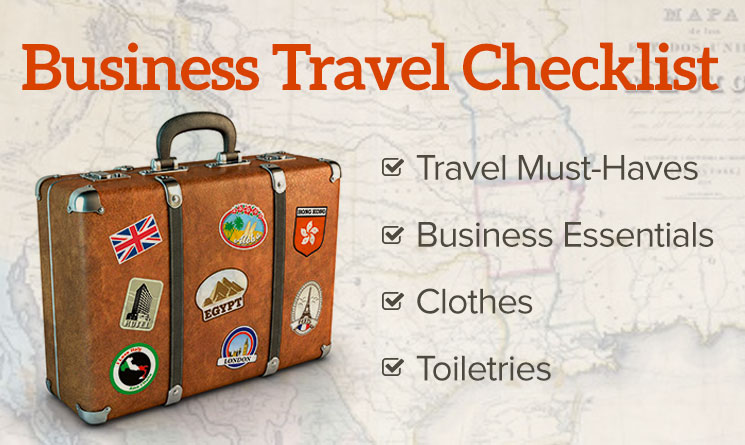 Business travelers navigate highways, airports, and mass transit stations like the pros they are. Their routines are clockwork: efficient, precise, and organized. How? They have a checklist. It might be a physical list that they go over before any trip, or it could be a subconscious list, perfected over time and embedded into a cyclical routine. Either way, you should incorporate their lists into yours for a misadventure-free travel experience. Failing to remember certain items, such as your airline tickets or passport, can turn any business trip into a nightmare. That's why writing everything down on a business travel checklist is so important. You can always refer back to this list whenever another trip is in the works, as well as add to it if necessary. However, keep in mind that a destination plays a major part in what you need to bring.


---
Travel must-haves
Airline tickets
ID – i.e. Driver's License, Global Entry Card, etc.
Passport
Visa
Travel insurance policy
Credit/Debit cards
Hotel confirmations
Car rental confirmations
Cash
Vaccination certificates
Any other necessary travel documents
There are several business travel apps that can help you stay organized when it comes to keeping track of vital documents on your business travel checklist—so you do not have to stress out about losing them—as well as preparing you for any other possible travel mishaps. Making copies of these documents is also helpful.


---
For business
Cell phone
Laptop or tablet
Chargers
USB flash drive
Business cards
Folder with work-related documents – Notes, Contracts, Reports, etc.
Meeting and event information
Pens
Notebook
Make sure you charge all of your electronics before you leave, so you will know that you won't have to charge anything right away. Consider buying a phone battery case. This way, you can charge on the go. Further, you may want to try and keep all of your electronics together by putting them in a small case and buy charger cable wraps in order to stay even more organized.


---
Clothes
Suits
Shirts
Ties
Socks
Dresses
Skirts
Jacket
Dress shoes
Comfortable shoes
Belt
Workout clothes – Because it's important to have healthy travel habits
If you are a new business traveler, you may not know that it is best to try and pack as little as possible when going on business trips, especially if you're flying. One way to accomplish this is to pack clothing that you can mix and match. For example, bringing one pair of pants that matches three shirts is much more efficient than bringing three pairs of pants that only match one shirt each. You should also consider dressing professionally while traveling because that is one less outfit you have to pack. Rolling up your clothes rather than folding them or investing in vaccuum storage bags are other ways to reduce the amount of space used in your bag.
However, one major challenge for business travelers, when it comes to clothing, is wrinkles. Some hotels offer irons and dry-cleaning services, so you should definitely consider those options. Still, if you're in a bind, another trick is to purchase a wrinkle remover spray.
Additionally, when it comes to packing clean clothes and dirty shoes in the same place, wrap your shoes in a plastic bag. It won't take up any more room and they'll be separate from everything else. The weather plays a role in what clothes you bring as well, so check what the forecast is going to be before you leave. For instance, if rain is in your foreseeable future, don't forget to pack an umbrella or raincoat.


---
Toiletries
Hotels usually provide all necessary toiletry items. This allows you to travel lighter, which is an important business travel tip. Remember to contact your hotel ahead of time to find out what they offer. However, if you prefer to bring your own toiletries, here are some key items to pack.

Shampoo
Conditioner
Hair Brush
Deodorant
Toothbrush
Toothpaste
Dental floss
Hand sanitizer
Bandages
Razor
When it comes to shampoo, conditioner and other liquids, it's best to purchase the travel-sized bottles, especially if you are not checking your luggage—which is highly recommended because you won't have to worry about it getting lost. In order to be able to bring liquids in your carry-on, make sure they are 3.4 ounces or less.
There are some items you should add to your business travel checklist only if they apply to you. For example, if you wear glasses or contacts, remember to pack them, as well as your contact case and solution. If you are taking any prescriptions, don't forget to bring them as well. If you have sensitive skin, bring your own hand lotion. Every business traveler is different, so be sure to customize your business travel checklist to fit your needs.